Residents of areas of Syria's Deir Ezzor controlled by militias affiliated with Iran's Islamic Revolutionary Guard Corps (IRGC) have expressed alarm over the anticipated spread of the novel coronavirus (COVID-19), a local activist said.
Though Syria has not yet confirmed any coronavirus cases, a number of sources report that the virus, which has already reached most parts of the world, is spreading in Syria.
Residents of the eastern province, which borders Iraq, fear that Iran-backed militias will spread the virus in Syria, said Deir Ezzor activist Jamil al-Abed.
Militiamen travel freely between Iran, Iraq and Syria via various crossings they control, without being subjected to medical tests, he told Diyaruna, sparking fears that the coronavirus will cross the border with them.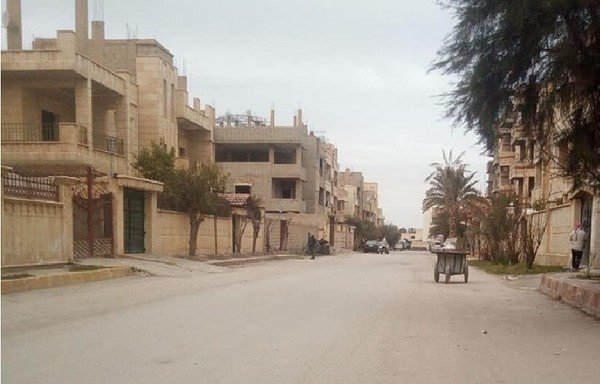 UN special rapporteur on human rights in Iran Javaid Rehman on Tuesday (March 10th) said Iran's response to the deadly outbreak -- one of the largest outside China, where the disease originated -- has been "too little, too late".
Iran on Friday announced that another 85 people had died of the virus -- its highest single-day toll -- bringing the overall number of deaths in the Islamic Republic to 514, out of 11,364 infections.
In Deir Ezzor, al-Abed said, it has become clear that civilians do not wish to come into contact with or interact with elements of Iran-aligned militias.
In addition to expressing concern that militiamen will spread the virus in Syria, he said, residents have noted that official reports regarding the spread of the virus in Syria are deliberately vague.
There are concerns that the regime is withholding or concealing information about the spread of the virus, he said, as well as failing to take preventive or protective action to prevent it from gaining a foothold in Syria.
Border control concerns
Stringent controls are being applied on the Iraqi side of the Albu Kamal border crossing on civilians and commercial activity, al-Abed said, noting that the border has been closed for periods of time as a preventive measure.
But at the crossing controlled by the IRGC, traffic is continuing as usual, he said, and there is no medical monitoring taking place.
Concerns have grown in Syria, he said, following media reports in which the director of al-Mujtahid hospital in Damascus stated that the facility had seen coronavirus infections.
He was later pressured to appear on state television and deny the existence of any such cases, according to local media reports.
Syrian authorities have taken precautionary measures in the border areas with Jordan and Iraq, al-Abed noted, but have not taken any action in relation to air travel to and from Iran or the illegal land crossings.
This shows disregard for the lives of civilians in militia-controlled areas, at a time when all countries are taking precautionary measures, he said.
Al-Abed accused the Syrian regime of handling the crisis in the same way it has been handled by the Iranian authorities, which led the virus spreading widely in all parts of that country.
Preventing an Idlib outbreak
Meanwhile, aid agencies are moving to prevent a coronavirus outbreak in Idlib province, where devastated health infrastructure and massive displacement make containment a nearly impossible task, AFP reported.
World Health Organisation (WHO) spokesman Hedinn Halldorsson on Sunday warned that Syria's "fragile health systems may not have the capacity to detect and respond" to an epidemic.
The risk of an outbreak is especially high and most alarming in Syria's north-west, where close to one million people have been displaced since December by a Russian-backed regime offensive.
Overcrowded settlements are teeming with fresh arrivals, and many are still sleeping rough in what has been bitter cold.
Medical facilities have been targeted during the latest bombing campaign, further reducing the capacity of a health system ravaged by years of conflict.
A Russian-Turkish ceasefire deal went into effect Friday, bringing relative calm to Idlib for the first time in months.
But many fear the fighting will eventually resume, in a further challenge to efforts to prevent a COVID-19 outbreak.
Misty Buswell of the International Rescue Committee (IRC) said the situation in Idlib was "especially ripe for a spread" of the virus.
"An outbreak would be devastating for thousands whose health status is already compromised due to lack of sufficient food, clean water and exposure to cold weather," she said.
Buswell said the IRC was focusing on preventing the illness arriving, but would work with "local health actors" to respond to any outbreak.