By hijacking Syria's peaceful uprising to prop up the ruling regime, Russia and Iran deprived the Syrian people of a historic opportunity to effect positive social change and improve their lives for the better, Syrian activists said.
Speaking to Diyaruna this month, as the war enters its tenth year, activists said they blame this outside intervention in large part for extending the war, which has killed at least 384,000 people, including more than 116,000 civilians.
A further 11 million people have been displaced, internally and abroad.
The Syrian people came close to achieving the goals of the revolution, which spread across the country wide and fast during the initial demonstrations nine years ago, Syrian activist Mohammed al-Beik told Diyaruna.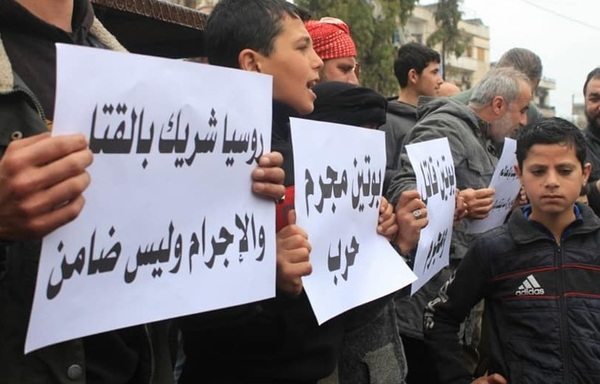 "But the wheel quickly began to turn back after Iran's Islamic Revolutionary Guard Corps (IRGC) and Lebanon's Hizbullah intervened on the side of the Syrian regime, turning peaceful protests into an armed conflict," he said.
This in turn opened the door for extremist groups, which established a presence in Syria and plunged the country into an all-out conflict, he said, and also helped the regime to remain in power.
Under the guise of helping the Syrian regime, Iran has sought to further its own interests in the country, al-Beik said, by establishing its presence and effecting demographic change in the Damascus area, al-Qalamoun and rural Deir Ezzor.
These moves are a sign that Iran intends to maintain its presence in Syria for as long as possible, he said.
At the same time, al-Beik added, Iran has sought to gain control of Syria's natural resources and to secure reconstruction projects for itself, in an attempt to recoup what it has spent in Syria over the past years.
In so doing, it has sought to block out other countries that want to take part in the reconstruction phase, particularly Russia, he said.
Self-serving intervention
Both Russia and Iran claimed at the outset of their intervention in Syria that their aim was to protect the Syrian people, Syrian journalist Mohamed al-Abdullah told Diyaruna.
But it became clear over time that their intervention was merely to serve their own interests and enable them to secure political and economic gains by keeping the ruling regime in power, he said.
The two countries have ferociously defended the Syrian regime for the past nine years, he said, "providing it with direct financial support, oil and open-ended military support by land, sea and air".
They also have "formed militias to achieve their goals in many Syrian provinces", al-Abdullah said.
There is now a thinly concealed conflict between Russia and Iran, he said, with each side aiming to exclude the other from Syria or at least limit its influence and presence in the country.
"The Syrian people will undoubtedly pay the price for this," he said.
Each of the two purported allies are forming and funding their own militias in order to further their own agendas and implement their plans, he said, pointing out that this could -- and has -- reached the point of armed confrontations.
There have been tensions and sporadic clashes between IRGC-aligned militias and Russian-funded Syrian militias in several areas of Deir Ezzor, he noted.
The Syrian regime, Russia and Iran have killed countless Syrian civilians in airstrikes and in shelling under the guise of fighting extremist groups, al-Abdullah said -- especially in Idlib province -- the final opposition stronghold.
Foreign militias in Syria
Iran, Russia and their affiliated militias exercise control over numerous parts of the country, amid a total or semi-total absence of the regime's army and institutions, Syrian activist Musab Assaf told Diyaruna.
"It has become clear that those two countries intervened in the conflict under false pretexts in order to seize control of natural resources that essentially belong to the Syrian people," he said.
The poverty rate in the areas controlled by militias affiliated with Russia and Iran has risen to unprecedented levels, he said, pointing to stalled development projects and the restrictions imposed on returnees.
Despite the reconciliation agreements, he said, there has been a total absence of the government support that was started to motivate civilians displaced by the conflict to return.
Assaf said the spirit of the Syrian revolution, with its hopes for a country in which citizens enjoy their full rights and live a decent life, still lives in the hearts of many Syrians.
In many areas, such as rural Damascus and Daraa, anti-regime demonstrations have resumed and escalated into armed confrontations, even as the regime continues to try to suppress popular protests and dissent, he said.