Medical teams from the White Helmets, in co-operation with various humanitarian organisations operating in northern Syria, are working hard to prevent a novel coronavirus (COVID-19) outbreak, a local activist said.
With the help of youth volunteers, they have started to implement preventive measures, White Helmets member Khaled al-Khatib told Diyaruna.
These include disinfecting key public areas and raising awareness about the virus and how to prevent it from spreading among local residents and internally displaced persons (IDPs), he said.
Initial measures included requesting the closure of schools and universities, a reduction in market opening hours, and limiting the work of cafés and restaurants to delivery service, al-Khatib said.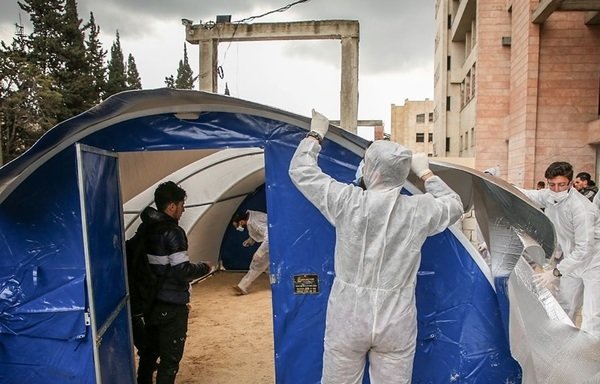 Movement from one area to another is being restricted to cases of necessity, and the need to stop social visits has been emphasised, he added, especially in the densely populated displacement camps.
These measures are in force in Idlib province and on the edges of Hama and Aleppo provinces, he said.
Civil defence teams (White Helmets) and volunteers have begun conducting public awareness campaigns and disinfecting civic institutions, schools and universities, public squares and displacement camps, he said.
These preventive measures stem from fears that the coronavirus will spread in the region, which has become very densely populated after successive waves of displacement caused by Syrian regime and Russian airstrikes and shelling.
Al-Khatib said temperature checks are being conducted at crossing points to screen people for symptoms, but pointed out that no cases have been recorded in the Idlib region so far.
Syria on Sunday (March 22nd) reported its first coronavirus infection.
Four people who showed possible symptoms have been quarantined in the northern Idlib province hospital of Atmeh, al-Khatib said.
Meanwhile, he noted, work is under way to set up a quarantine field hospital that will include 50 tents and have the capacity to treat 200 patients.
Testing to begin within days
Testing for the novel coronavirus is to start within days in north-west Syria, the World Health Organisation (WHO) said Monday.
Aid groups have warned conditions in the Idlib region -- where a large number of people live in tented camps and makeshift housing and basic hygiene is lacking -- are especially "ripe" for an outbreak, AFP reported.
Some 300 COVID-19 diagnostic kits are to be delivered to a laboratory in Idlib city on Wednesday and "testing should start shortly afterwards", WHO spokesman Hedinn Halldorsson said.
An additional 2,000 tests would be delivered as soon as possible, he added.
Technicians in Idlib who have been trained to use the kits and laboratories in neighbouring Turkey would also be on standby to help if needed.
As part of a wider response plan for the region, three hospitals with intensive care units have been modified as isolation units equipped with ventilators, he said.
Up to 1,000 healthcare workers have been mobilised and a new delivery of protective gear, including 10,000 surgical masks and 500 respirator masks, should arrive within the week.
WHO is 'extremely concerned'
"WHO is extremely concerned about the impact COVID-19 may have in the north-west," Halldorsson said. "Displaced people (there) live under conditions that make them vulnerable to respiratory infections."
UNICEF on Monday warned that hundreds of thousands of people in north-east Syria are at greater risk of contracting the novel coronavirus because of repeated interruptions to their main water supply.
Misty Buswell of the International Rescue Committee on Monday said deplorable living conditions in Idlib have "already left hundreds of thousands of people in poor health, making them even more vulnerable".
"It is possible that the disease is already making its way through the population" in Idlib, she said in a statement.
The 85 attacks targeting health facilities last year make the region all the more vulnerable, she warned.
"The majority of hospitals that remain open are unable to cope with needs that already exist," Buswell said.