After the "Islamic State of Iraq and Syria" (ISIS) lost most of its top commanders, efforts are now focused on capturing the remaining circle close to the group's leader Abu Bakr al-Baghdadi, Iraqi experts told Diyaruna.
The US on August 21st offered financial rewards for anyone that provides information leading to the whereabouts of three ISIS leaders that can be described as senior aides to al-Baghdadi.
The US State Department announced a $5 million reward for information to locate Amir Mohammed Saeed Abdul Rahman al-Mawla, Sami Jassim Mohammed al-Jubouri, and Moataz Noman Abd Nayef Najm al-Jubouri as part of its Rewards for Justice programme.
Al-Mawla, a senior ISIS leader and possible al-Baghdadi successor, oversaw a number of the group's major operations. He is also known as Abu Abdullah Qardash and Hajji Abdullah.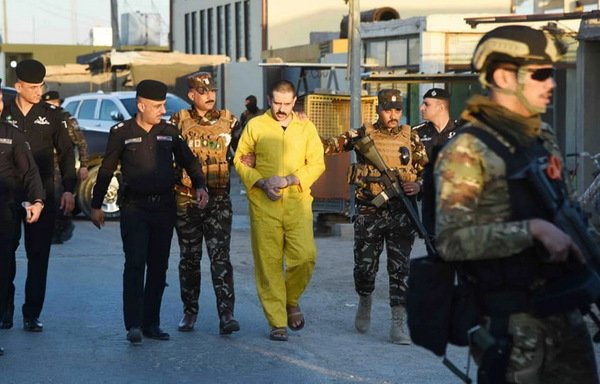 Sami al-Jubouri, known as Hajji Hamid, was responsible for ISIS's financial transactions, including the sale of stolen oil, gas and antiquities, while Moataz al-Jubouri, known as Hajji Taysir, oversaw the manufacture of explosive devices.
Financial rewards are designed to "tighten the noose around al-Baghdadi" by targeting the last of his close aides and associates, said Issam al-Fayli, who teaches political science at al-Mustansiriyah University.
"The loss of senior commanders who were responsible for leading efforts to influence and reinforce ideology, for field command and media is the group's biggest loss," he told Diyaruna.
ISIS lost most of its influential commanders during the war and the security operations that followed, he said, adding that current efforts are focused on disrupting the last line of command and capturing its prominent leaders.
By allocating such substantial rewards, the US is affirming its commitment to the international community to tackle the global threat posed by ISIS, he said.
International coalition warplanes dropped leaflets in April over parts of Iraq's Anbar province that promised a $25 million as a reward for anyone coming forth with information leading to al-Baghdadi's whereabouts.
Al-Baghadi's circle tightens
"Attractive financial incentives are among the most effective ways to target the leadership structure of the group," security expert Jassim Hanoun told Diyaruna.
This has helped to uncover ISIS commanders and their networks and sources of funding, as well as any global links, he said.
Iraqi intelligence, supported by the international coalition, have in recent years succeeded in targeting key ISIS leaders considered to be agents of al-Baghdadi.
These include Ayad Hamed al-Jumaili (also known as Abu Yahya), the ISIS "minister of war"; Abdul Wahid Khudhayer Sayer al-Jouan (known as Abu Luay); and Hashim Nasif Jassim al-Hayali.
Others were arrested, including Ismail Alwan Salman al-Ithawi, al-Baghdadi's deputy, who was later sentenced to death in Iraq; and Shaaban Nasser Arzik Hammadi, "military chief" of the Heet sector, who was captured August 19th in the Anbar town.
"The close circle of the terrorist al-Baghdadi that includes some of his most senior aides and commanders is constantly tightening, and they are on their way to extinction in light of the security and intelligence efforts," Hanoun said.
He stressed that the "intensive and continued targeting of ISIS leaders is what al-Baghdadi fears the most, as he currently faces a debilitating state of isolation and inability to seize control and stop the destruction of his group".
"The group is dead structurally and militarily, but its ideology still poses a threat," he said, noting that social issues such as unemployment that may make people more vulnerable to extremist recruitment attempts must be addressed.
ISIS's loss of its senior commanders is significant, Ninawa provincial council member Hassan Shubeib al-Sabawi told Diyaruna.
Al-Baghdadi, who was once surrounded by a coterie of aides, advisors and senior commanders "now only has a handful that are gradually being eliminated as a result of ongoing operations to target and hunt them down", he said.
In order to reinforce the group's defeat, he added, Iraqi authorities must create an environment that repels extremist ideology in addition to "reinforcing security and intelligence operations to destroy the remnants of terrorism".
The latest US rewards support these efforts, he said, and serve as "an important step in the direction of killing off this group for good".