Newly declassified tactical interrogation reports from the 2008 imprisonment of current "Islamic State of Iraq and Syria" (ISIS) leader Amir Mohammed Abdul Rahman al-Mawla show him eager to inform on his rivals.
Al-Mawla, a shadowy figure also known as "Abu Ibrahim al-Hashimi al-Qurashi", was detained at the US-run Camp Bucca prison in Iraq between late 2007 or early 2008 and at least July 2008, when interrogation records stop.
At the time of his capture, he was the top sharia official for the extremist group, then operating as al-Qaeda in Iraq (AQI).
The 53 newly declassified reports, released Tuesday (April 6) by the Combating Terror Centre (CTC) at the US Military Academy, known as West Point, supplement information from three interrogation reports released in September.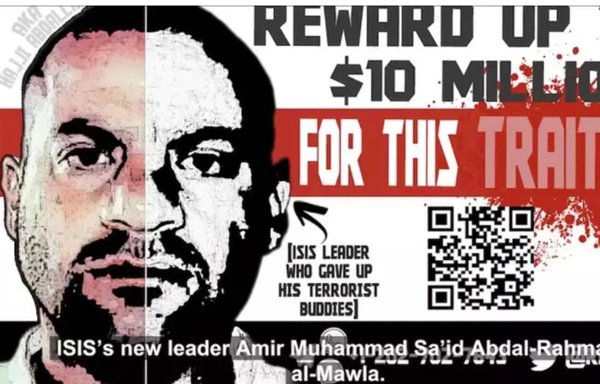 They "open a rare window" into the early activities of al-Mawla, the Washington Post reported Wednesday, and provide a more nuanced picture of the ISIS leader's character and motivations.
'Prison snitch'
The newly declassified records offer "an intimate portrait of a prolific — at times eager — prison snitch who offered US forces scores of priceless details that helped them battle the terrorist organisation he now heads", it said.
"What is clear from the reports is that over a period of at least two months in early 2008, al-Mawla was an interrogator's dream, revealing the identities of terrorism leaders and providing maplike directions on how to find them."
Al-Mawla led US forces to his AQI rivals by providing them with phone numbers; helping them with artists' sketches; and identifying their homes, vehicles and places where they could be found.
He also offered up detailed physical descriptions of some group members.
"In an ironic twist, al-Mawla appears in the reports to be particularly helpful in equipping the Americans to go after the group's propaganda unit, as well as non-Iraqis in his organisation," the newspaper said.
The newest reports -- released with redactions -- show al-Mawla was especially keen to inform on non-Iraqi group members, including those from North Africa.
In particular, he "sold out" AQI's second in command, Moroccan-born Abu Qaswarah, drawing maps to his compound and naming a close associate.
Abu Qaswarah was later killed in Mosul by US forces.
The 'canary caliph'
Al-Mawla had previously served as AQI's Mosul governor, CTC director of research Daniel Milton wrote Tuesday on Lawfare, a US national security blog.
"Prior to his capture, al-Mawla was a developing leader who was advancing his own interests, honing his decision-making and mediation skills, and climbing the ranks of his organisation," Milton said.
"Once captured, however, he sang like a bird about his organisation and, in the words of one scholar, became the 'canary caliph'," he added.
Al-Mawla's past history as an informant was already known in militant circles at the time of the death of its leader, Abu Bakr al-Baghdadi, in a US raid in Syria.
ISIS named al-Mawla as al-Baghdadi's successor on October 31, 2019.
At the time, "prominent commentators on pro-ISIS social media sites" criticised the decision to elevate al-Mawla, the Washington Post reported.
The US State Department placed him on its Specially Designated Global Terrorist list, and its Rewards for Justice programme is offering a $10 million reward for information on his whereabouts.
'Brutal policymaker'
Al-Mawla was born, likely in 1976, in Tal Afar, some 70km from Mosul, into an ethnic Turkmen family, making him a rare non-Arab to ascend the ranks of ISIS.
According to the Counter Extremism Project, al-Mawla "quickly established himself" within the senior ranks of ISIS, and was nicknamed the 'Professor' and the 'Destroyer'."
He was known within ISIS as a "brutal policymaker" and was responsible for "eliminating those who opposed al-Baghdadi's leadership", it said.
He is probably best known for justifying the targeting of Iraq's Yazidi minority through massacres, expulsion and sexual slavery.
In his Lawfare analysis, Milton notes that "the counterterrorism field, to some extent, romanticises militants' and extremists' commitment to their movements".
But the newly declassified reports help to dispel the notion that the members of extremist groups are "committed and passionate, capable and cunning".
"While this is certainly true in some cases, previous research and reporting has shown that these groups struggle with the banalities of organisational management," Milton said. "The documents paint an interesting picture of this."
"In the reports, we see al-Mawla dealing with individuals of varying levels of competence and commitment," he adds. "Given the large number of names that he gave up, al-Mawla appears to have varied on these attributes as well."