Iraq's elite Counter-Terrorism Service has arrested 10 "Islamic State of Iraq and Syria" (ISIS) elements in areas north and south of Baghdad and in western Anbar province, the CTS said in a statement Tuesday (August 20th).
The detainees "formed a terror cell that acted as mobile ISIS units carrying out various missions for the group", security analyst Fadel Abu Ragheef told Diyaruna Wednesday.
These missions included planting improvised explosive devices (IEDs) and preparing rest-houses for suicide bombers in Anbar province and areas near the capital, he said.
The arrests came as the "result of confessions by an ISIS leader in Kirkuk province who was arrested by Iraqi intelligence forces about a month ago", he said.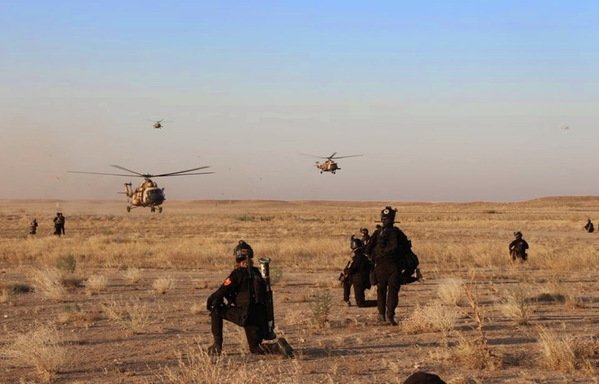 The ISIS leader was planning a large-scale attack on al-Hout prison in the Dhi Qar province city of Nasiriyah "to free dangerous prisoners held there on terror charges", he said.
"His confessions led the CTS forces to conduct a series of operations to hunt down the cell's 10 members in different areas of Baghdad and Anbar, leading to their arrest," Abu-Ragheef said.
Cracking down on al-Baghdadi's inner circle
The operation came one day after the Iraqi Defence Ministry announced the arrest of a close associate of al-Baghdadi who held the position of ISIS's "military chief" of the Heet sector in western Anbar.
Shaaban Nasser Arzik Hammadi is known for his "extreme cruelty, extremism, and absolute conviction in [ISIS's] terrorist ideology", Abu-Ragheef said.
"He was a senior leader in ISIS's Diwan al-Jund and took part in many of the group's battles against Iraqi forces and its incursions which caused the death and displacement of many Anbar residents, as well as the seizure of their homes and property," he said.
Taking out this leader "tightens the noose around ISIS leader Abu Bakr al-Baghdadi's neck and follows similar operations that have led to the killing and arrest of several high-profile figures close to him", he added.
ISIS has been decentralizing its activities "as part of a new approach that gives greater authority and freedom to its field commanders to manage their units and decide when to launch attacks", Abu Ragheef noted.
"But our security forces and intelligence agencies do not allow the terrorists room for any gain," he added.