Iraqi security and intelligence services have picked up the pace of operations targeting members of the "Islamic State of Iraq and Syria" (ISIS) group's former administrative entities, officials and experts told Diyaruna.
The operations have degraded the group's ability to restore its organisational structure and revive its "wilayat" (provinces) in Iraq, they said.
After its inception, ISIS ​​divided territories it controlled into administrative entities called "wilayat", with 11 established in Iraq.
These included the three wilayat of Baghdad (North, South and Central Baghdad) and the wilayat of al-Jazeera, Tigris, Diyala and the South -- which includes southern Iraq provinces.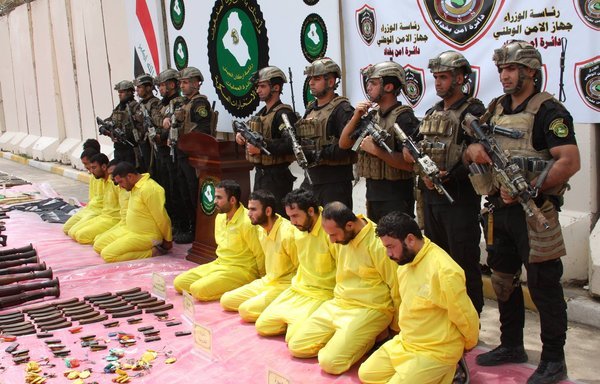 The wilayat ultimately fell with the collapse of ISIS's infrastructure and the loss of territory the group held prior to its defeat in 2017.
Thwarting efforts to re-establish wilayat
Intelligence expert Fadel Abu Ragheef told Diyaruna that after suffering defeat in Iraq, ISIS consolidated its wilayat into one, namely "Wilayat Iraq".
Since 2017, intelligence and security services have carried out quality security operations to hunt down ISIS remnants and prevent them from re-establishing their provinces, he said.
They took down dozens of the group's senior leaders, including Omar Shallal Obeid al-Kartani, the "wali" of Baghdad who was killed in mid-July, and Abdul-Nasser Qardash who was arrested in May.
Qardash held several senior positions during Abu Bakr al-Baghdadi's leadership of ISIS, including wali of Mosul, Kirkuk and al-Jazeera, as well as wali of the Syrian provinces of al-Hasakeh, Deir Ezzor and al-Raqa.
Iraqi forces have also dismantled several networks and cells that included ISIS senior elements who were involved in the group's former wilayat, Abu Ragheef said.
On October 25th, Iraqi intelligence services arrested two ISIS elements in Baghdad, one of whom worked as a sponsorship distributor in the group's former southern wilaya. He was known as "Abu Ishaq".
Previously, Iraq's Counter-terrorism Service (CTS) arrested in Suleimaniya province nine ISIS elements working to revive the group's southern wilaya, on September 29th.
On October 22nd, a network of five ISIS elements who belonged to the former wilayat Tigris in Kirkuk province were arrested, and on September 8th an explosives expert working for that same wilaya also was arrested.
In early September, Iraqi forces managed to dismantle the wilayat Diyala media cell, according to Abu Ragheef.
Arrest warrants for 40,000 individuals wanted on charges of belonging to ISIS wilayat and participating in the group's crimes have been issued, he said. To date, one third of those wanted have been arrested.
Pre-emptive operations key to security
Political analyst Atheer al-Shari told Diyaruna Iraqi forces have thwarted many terrorist plots that were planned by networks and cells associated with ISIS's wilayat.
He cited the capture of a top ISIS leader who was running assassination units in the group's wilayat Diyala.
The militant, who was an associate of Abu Musab al-Zarqawi, the former leader of al-Qaeda in Iraq who was killed in 2006, was arrested in Baghdad on October 13th.
Al-Shari added that the CTS has conducted intensive operations resulting in the arrest of 36 ISIS leaders and operatives in October, some of whom were forming sleeper cells.
"Pre-emptive security operations are a buffer against any attempt by ISIS to threaten security," he said.
The efforts to hunt down ISIS remnants, particularly in the Diyala, Kirkuk, Salaheddine, Ninawa and Anbar provinces and the unrelenting strikes on their hideouts, have significantly weakened the group's organisational structure, he noted.
"Our forces are now highly experienced in tracking terrorists and identifying their most secret hideouts and cells," said al-Shari, adding that Iraqi forces are in possession of a massive database on ISIS elements.
Furthermore, arrested terrorists make confessions that lead to the dismantling of more ISIS networks and the thwarting of their plans, he added.
"It is impossible for ISIS to return to what it was in the past and regain its structure," said Katah Najman al-Rikabi, who serves on the parliamentary security and defence committee.
"Today, ISIS is a weak and disjointed organisation and its wilayat have fallen and no longer exist," he told Diyaruna.