The new leader of the "Islamic State of Iraq and Syria" (ISIS), Amir Mohammed Said Abd al-Rahman al-Mawla, has a reputation for brutality, yet remains largely an enigma.
Al-Mawla succeeds Abu Bakr al-Baghdadi, who died in an October raid in Syria carried out by US special forces, as head of the extremist group.
ISIS initially presented him as Abu Ibrahim al-Hashimi al-Qurashi, a shadowy figure about whom little was known, but US officials later came to believe al-Qurashi was al-Mawla's nom de guerre.
He is known within ISIS by monikers as divergent as the "Professor" and the "Destroyer".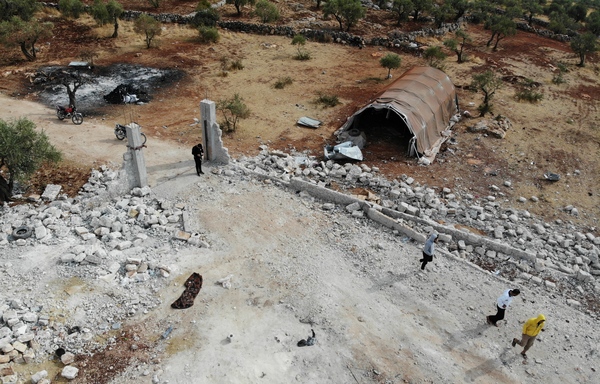 The US State Department placed him on its Specially Designated Global Terrorist list, and on June 24th doubled a reward for information on his whereabouts to $10 million.
Al-Mawla is probably best known for justifying the targeting of Iraq's Yazidi minority through massacres, expulsion and sexual slavery, according to Jean-Pierre Filiu, an extremism analyst at Sciences Po university in Paris.
Links to al-Baghdadi
He was born, likely in 1976, in Tal Afar, some 70 kilometres from Mosul, into a Turkmen family, making him a rare non-Arab to ascend the ranks of ISIS, and later attended the Islamic Sciences College in Mosul.
His ethnic origins prompted the UN to predict in a January report that he might be a "temporary choice until the group finds a more legitimate 'emir'".
This would be a direct descendant from the Quraysh Hashemite tribe, who could on those credentials "command the full support of the remote provinces".
A former officer in the army of Saddam Hussein, he joined the ranks of al-Qaeda in 2003, according to the Counter Extremism Project (CEP), taking on the role of religious commissary and a general sharia jurist.
He met al-Baghdadi in 2004, while the two were detained at Camp Bucca prison in southern Iraq.
Al-Mawla later remained at al-Baghdadi's side as the latter took the reins of the Iraqi branch of al-Qaeda in 2010, then defected to create the Islamic State of Iraq (ISI), now known as ISIS.
In 2014, according to the CEP, al-Mawla welcomed al-Baghdadi to Mosul "before leaving al-Qaeda, and pledged allegiance and full support to the radical's mission, providing ISIS the support to quickly take control of the city".
'Brutal policymaker'
According to the CEP, al-Mawla "quickly established himself" within the senior ranks of ISIS, and was nicknamed the 'Professor' and the 'Destroyer'".
He was known within ISIS as a "brutal policymaker" and was responsible for "eliminating those who opposed al-Baghdadi's leadership", it said.
Iraqi extremism expert Hisham al-Hashimi, who was assassinated in Baghdad this month, recently estimated the group's monthly revenues in Iraq from investments and taxes it collects at some $7 million.
"Despite its serious losses in territory and manpower, it remains financially solvent, creative, lethal and once again confident enough" to threaten those who violate its principles," said Centre for Global Policy analyst Abdullah al-Ghadhawi.
This means al-Mawla has the incentive and the means to assert himself, but many questions remain about his competence and ability to lead the group.
"There are complaints about him from the field, there are still questions about what kind of organisation he will be running, how competent of a leader he is going to be," said Seth Jones of the Centre for Strategic and International Studies in Washington.
"There is going to be a lot of challenges, in inspiring the field but also avoiding to be killed like al-Baghdadi," Jones said.