Fighting in rural Idlib has prompted a massive civilian displacement movement toward safer areas over the past few days, a local activist told Diyaruna.
Continued airstrikes by Syrian regime and Russian warplanes and the advance of regime forces toward the strategic town of Khan Sheikhun in southern Idlib have prompted the exodus, Idlib activist Haisam al-Idlibi said Friday (August 16th).
The town lies on a key highway coveted by the regime, which runs through Idlib, connecting government-held Damascus with the northern city of Aleppo.
Over the past week, pro-regime fighters have advanced on the southern edges of Idlib, controlled by the Tahrir al-Sham extremist alliance.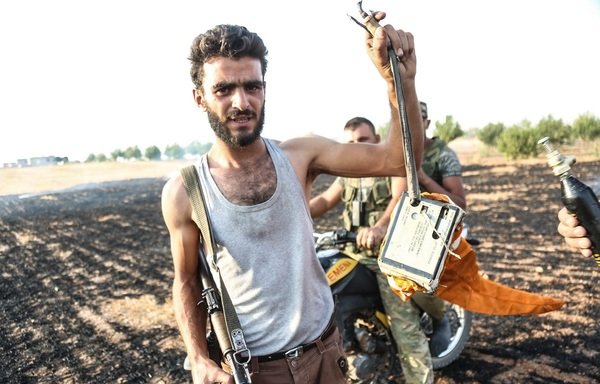 "Khan Sheikhun is now encircled from the east and west," al-Idlibi said, noting that a number of nearby towns and villages have fallen to the regime's forces and allied militias, including Hirsh al-Hobait, Mughr al-Huntah, Abdeen, al-Mardam and Tal Larja.
The fighting in the region is fierce and explosions can be heard across the province, he said, as Tahrir al-Sham is using car bombs and suicide bombers in an attempt to stop or delay the regime's advance.
Fighting on Thursday killed 20 regime combatants and 24 extremists and allied opposition fighters, according to the Syrian Observatory for Human Rights.
Regime airstrikes also killed one civilian in southern Idlib, it said.
On Wednesday, Tahrir al-Sham elements downed a regime plane near Khan Sheikhun, and took the pilot prisoner.
A video released by the alliance on Thursday purported to show the captured pilot, who identified himself as Lt. Col. Mohammad Ahmad Sleiman of the Syrian air force.
'Horror'
Also on Wednesday, airstrikes killed nine civilians including a paramedic, an ambulance driver, and a rescue worker, which prompted the UN to decry the violence.
"Wednesday's attack highlights again the horror of what is going on in Idlib and northern Hama, where three million civilians remain trapped and where humanitarians, medical staff and rescue workers continue to pay with their lives in their efforts to help others," UN deputy regional humanitarian co-ordinator for the Syria crisis Mark Cutts said.
Regime and Russian airstrikes and shelling since late April have killed more than 820 civilians, according to the Observatory.
It said more than 1,300 extremist and opposition fighters -- as well as 1,150 regime forces -- have died in the same period.
The violence has displaced 400,000 people, according to the UN.