Fierce fighting and airstrikes continued on the outskirts of the southern Idlib city of Khan Sheikhun on Wednesday (August 21st) after Tahrir al-Sham and other armed groups withdrew from the area on Tuesday, a local activist said.
Tahrir al-Sham and allied factions withdrew from the centre of the city and redeployed on its outskirts, particularly on the southern side of the city, where fierce fighting continues to rage on, Idlib activist Musab Assaf told Diyaruna.
Despite the withdrawal announcement, he said, there is no notable deployment of Syrian regime forces inside the city, and a number of towns, including Morek, Kafr Zita and al-Latamna, remain in the hands of Tahrir al-Sham.
Extremist and allied groups also withdrew from northern rural Hama, he said, after it became semi-besieged and battered by vicious fighting and airstrikes.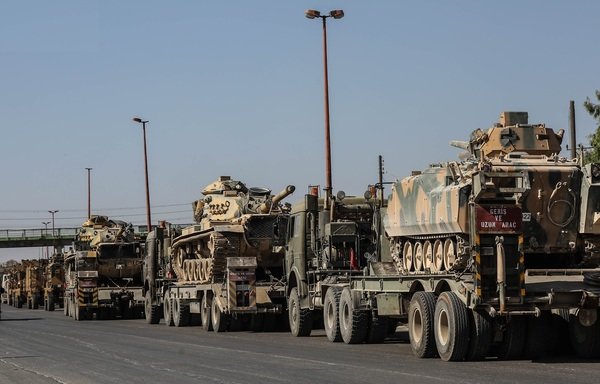 The area extending from northern rural Hama to Khan Sheikhun is totally devoid of any military or civilian presence, after the mass exodus of civilians who fled the fighting, Assaf said.
Meanwhile, the Turkish military convoy that regime warplanes had targeted near Khan Sheikhun in an attempt to stop its advance took position near the Damascus-Aleppo highway in the Maar Hattat area, north of the city, he said.
Fighting continued to rage in other areas, especially in rural Latakia, he said, where regime forces were reported to have suffered heavy losses when they tried to advance on the Kabbina axis in the Jabal al-Akrad area.
A number of civilians were killed and wounded in the intensive Syrian regime and Russian airstrikes on southern rural Idlib, Assaf said.
The airstrikes focused on the towns of Jarjanaz, Talmenes, al-Teh and Benin, where the White Helmets were able to pull four civilians out from under the rubble of a home that took a direct hit from a missile fired by a warplane.