Extremists in Idlib province on Wednesday (August 14th) shot down a Syrian regime warplane, as the regime's ground forces continued their advance on the city of Khan Sheikhun, a local activist said.
The Russian-made Syrian air force Sukhoi Su-22 warplane was shot down near the towns of al-Latamna and al-Tamanah in the southern countryside of Idlib, Idlib activist Haisam al-Idlibi told Diyaruna.
It was the first such incident since late April, the Syrian Observatory for Human Rights said.
"The pilot has been taken prisoner" and is in the hands of Tahrir al-Sham, Observatory head Rami Abdel Rahman said Wednesday.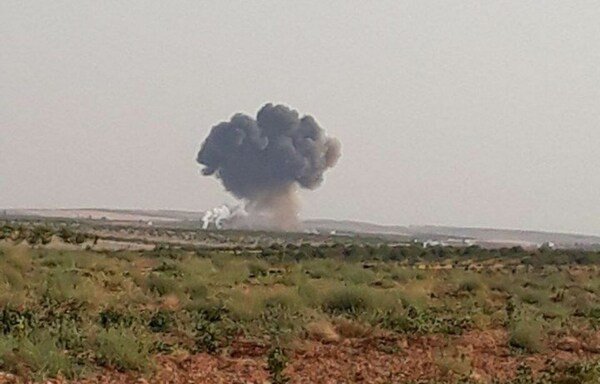 Al-Idlibi said there had been conflicting reports about the capture of the pilot, who is believed to have been found by a Turkmenistani extremist group after he parachuted out of the plane and was handed over to Tahrir al-Sham.
Tahrir al-Sham, the extremist alliance that controls most of the Idlib region, on Thursday released a video purporting to show the captured pilot, who identified himself as Lt. Col. Mohammad Ahmad Sleiman of the Syrian air force.
The crash site lies east of the near-deserted town of Khan Sheikhun, which lies on a key highway coveted by the regime that links Damascus to Aleppo.
Regime advances on Khan Sheikhun
Al-Idlibi said the downing of the warplane coincided with intense ground battles that culminated with regime forces advancing towards Khan Sheikhun.
On Thursday they stood just three kilometres away from the town, after capturing five villages to its north-west overnight, the Observatory said.
"The aim of the advance is to surround Khan Sheikhun and reach the highway," Abdul Rahman said.
Fighting in southern Idlib on Thursday killed five regime combatants and 11 extremists and fighters from allied groups, the Observatory said.
Al-Idlibi said airstrikes continued to pound the cities and towns of Maarat al-Numan, Maarat Hurma, Hesh, Moqa, Jbala and Ksanfara in southern rural Idlib.
The number of casualties is expected to be high, due to the ferocity of the ongoing fighting, particularly around Tal Teri and Sukayk, he said.
Clashes on Wednesday killed 16 regime forces, as well as 24 extremists and seven fighters from allied groups, the Observatory said, raising an earlier toll.
Also on Wednesday, Russian airstrikes killed four civilians near the town of Maarat Hurma in the south of Idlib province, the Observatory said.
They included a paramedic, an ambulance driver and a rescue worker, it said.
Four other civilians died in regime strikes on the town of Maarat al-Numan.