Iraq has made it clear that the trials of foreign elements of the "Islamic State of Iraq and Syria" (ISIS) are being conducted in accordance with its national laws.
Since 2018, Iraqi courts have handed down various sentences to 514 foreign nationals, both men and women, who were convicted of belonging to and working for ISIS.
The death penalty was handed down in 11 of these cases -- sparking opposition from some international organisations and human rights activists -- though there have not yet been any executions of foreigners.
"Anyone can express their observations and oppose the judgements," Legal Culture Association chairman Tariq Harb told Diyaruna. "However, we would also like to confirm that the death penalty is enshrined in Iraqi law."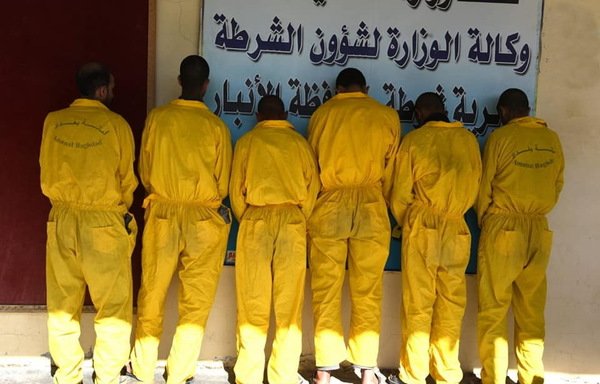 Death penalties have been issued to foreign nationals in some cases because "they committed terrorist activities in Iraq and their victims are Iraqis", he said.
"Any foreigner who commits a crime in any country is prosecuted by the judicial institution of that country, and this is an internationally recognised legal norm," he said, noting that foreign defendants are treated like any Iraqi citizen.
Those facing trial on terrorism charges "are subjected to court hearings according to Iraq's legal code", he said, which includes the Anti-Terrorism Law No. 13 of 2005 and the amended Criminal Procedure Code No. 111 of 1969.
Sentences are handed down based on the nature and type of crime committed and the resulting damages, Harb said.
Iraqi law does not discriminate
Trials of ISIS foreign fighters in Iraq are being conducted "in accordance with the fundamental legal procedures" from investigation to sentencing, political scientist Issam al-Fayli told Diyaruna.
"All the confessions given by the suspects are matched with witness statements and testimonies from their partners (in crime)," he said.
"The investigatory process includes providing crime scene evidence as to how the suspect committed their crime, which is later presented to the court," he added.
"Any suspect has the right to legal council, or the court can appoint a defence lawyer and the judge will thoroughly look into and examine their case before issuing a verdict and sentencing," al-Fayli said.
He noted that even after sentences are handed down by the court, these are not directly implemented as there is a court of cassation that ratifies the sentences, reduces them or sends them for a retrial in the event of inconclusive evidence.
Iraqi law "does not discriminate between Iraqis or foreigners accused of a terrorist or criminal offence on Iraqi soil", al-Fayli said, noting that the death penalty applies to anyone convicted of murder.
'Judicial system is well established'
A number of foreign fighters travelled to Iraq and committed atrocities there, al-Fayli said, noting that many are now being prosecuted for their crimes.
The Iraqi trials are taking place at a time when a number of countries are refusing to receive their citizens who are accused of terrorism, he said.
At the beginning of June, several European countries suggested forming an international tribunal in Iraq to try ISIS foreigners.
But observers admitted this would be difficult to implement and asked which laws would be applied in these cases. They also expressed concern that this would lead to protracted trials, or that criminals would evade justice.
Furthermore, creating this tribunal "might not be accepted by Iraqis due to matters relating to sovereignty and independence of the judicial system", said Anbar provincial council security committee chairman Naeem al-Koud.
"The Iraqi judicial institution is well established and has a long track record of integrity and fairness by international standards," he stressed.
"Our judiciary system treats these terrorists, whose own countries have rejected them due to their heinous crimes and for the threat they pose to the safety and security of their communities, with transparency and justice," he said.