The US has been a key partner with Iraq in defeating the "Islamic State of Iraq and Syria" (ISIS) and ensuring Iraq's post-liberation stability by supporting its military with training and weapons, Iraqi experts and officials told Diyaruna.
The ISIS incursion into swathes of Iraq in 2014 was a litmus test for this partnership, in which the US has proven its support for Iraq by helping it to reclaim all its territory from the extremist group, they said.
"Our partnership with the Americans is essential," Iraqi security expert Ahmed al-Sharifi told Diyaruna.
The US and its allies have provided Iraqi forces with advanced military training, he said, "and we need their support in order to bolster the preparedness and training of our troops on modern warfare techniques" and weaponry.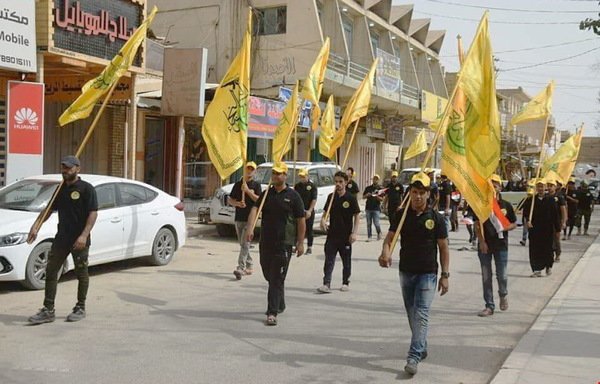 "This collaboration needs to be strengthened as it allows us to better protect our country," he added, noting that ISIS remnants continue to pose a threat.
Support for Iraqi military
As part of Operation Inherent Resolve, the US and its international coalition partners have provided Iraq with $3.5 billion in arms and military equipment, an Iraqi strategic expert told Diyaruna.
This assistance has included Abrams tanks, armoured Humvees, and other vehicles, including personnel carriers, as well as shipments of AT4 anti-tank rockets and launchers, said the expert, who asked to remain anonymous.
The US has helped to build up the Iraqi air force "by delivering dozens of F-16 fighter jets, providing training to Iraqi pilots and improving defence and air traffic control systems", he added.
At least 190,000 members of the Iraqi police, army and elite forces have been trained by the US and other international coalition countries, he said.
Security personnel received training to develop their combat skills in complex environments and to conduct assaults on specific targets, he said, as well as on marksmanship and aerial landing on mobile and fixed positions.
They also received first aid training.
Strengthening Iraq's borders
The US also has contributed to the fight against ISIS by enhancing the ability of Iraqi forces to protect their country's borders.
This has included training border guards and upgrading border posts with enhanced communications and reconnaissance equipment, thermal cameras and drones.
Iraq recently took delivery of six US-made F-16 Fighting Falcons, which sends a "clear message" that Iraq is serious about building its defence capabilities, military leaders said.
According to Joint Operations Command spokesman Brig. Gen. Yahya Rasul, the June 7th delivery brings Iraq's F-16 Fighting Falcon fleet to 27.
Additionally, the US and Iraq on May 16th signed a $92.4 million contract to produce 120mm ammunition cartridges for Iraq's tanks through 2022. The tanks were purchased in 2008 as part of a $2.1 billion military sales agreement with the US.
"Without the US role and its major contributions, all of Iraq would not have been freed from the terror group's control in record time," Ninawa tribal spokesman Sheikh Muzahim al-Huweit told Diyaruna.
He accused Iran-backed Iraqi militias of seeking to take the credit for defeating ISIS, noting that it was US airpower that secured the advance of Iraqi ground forces, by striking ISIS's defence lines and thwarting its retaliatory attacks.
Threats from Iran-backed militias
The Iraqi government is in a difficult situation as it faces pressure from pro-Iranian political factions to align with Iran, al-Huweit said, noting that yielding to this pressure will "endanger the interests of the Iraqis".
"It is unacceptable to squander a strong ally such as the US, that has helped us in our war on terrorism until we achieved victory," he said, adding that the US continues to provide Iraq with military and intelligence assistance.
Pointing to recent reports that show Iran-backed Iraqi militias -- sometimes referred to as Hashd al-Wala'i -- have threatened to attack Iraqi military bases where US forces are stationed, al-Huweit noted that this would place the militias in direct conflict with Iraqi forces.
This threat "confirms the degree that these factions are slavish to the Iranian agenda", he said, and show that Iran "is not concerned with the lives of Iraqis and does not care about the catastrophic results of this targeting".
Iran-backed Iraqi militias include Asaib Ahl al-Haq, Imam Ali Brigades, Sayyed al-Shuhada Brigade, Saraya al-Khorasani and Harakat al-Nujaba.
But these militias "currently lack popular support and are incapable of leading a proxy war on behalf of Iran", political affairs researcher Abdul Qader al-Nayel told Diyaruna.
They are therefore focused on disrupting the security and political situation in Iraq, he said, and are feeding sectarianism and violence so Iraq remains fragile and they can maintain their influence within the country.