Iraqi citizens and analysts accuse Iran-backed militias in Iraq of seeking to expand Iran's influence in their country by changing the religious character of Sunni-majority areas.
These militias, backed by Iran's Islamic Revolutionary Guard Corps (IRGC), have been carrying out a plan that serves Iran's agenda to sow sectarian division and destroy the Iraqi national identity, they said.
They include the militias of Kataib Hizbullah, Harakat al-Nujaba, Asaib Ahl al-Haq and the Badr Organisation.
A resident of Ninawa province, who asked to remain anonymous for fear of reprisal, said the militias have infiltrated liberated cities with a population of mostly Iraqi Sunnis, in addition to the followers of other faiths, such as Christians and Yazidis.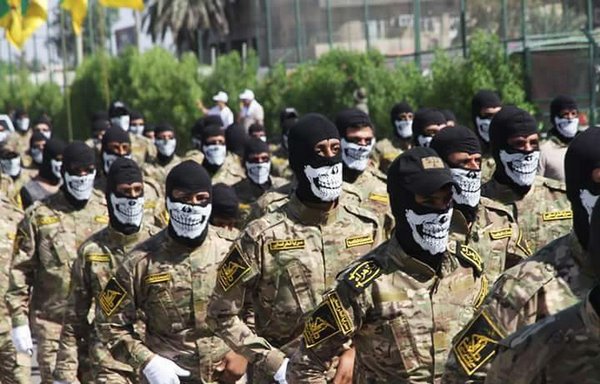 Members of these militias are seeking to propagate the doctrine of Wilayat al-Faqih (Guardianship of the Jurist), which calls for allegiance to al-Wali al-Faqih -- Iran's Supreme Leader, Ali Khamenei.
They resort to a "carrot and stick policy to achieve their objectives", he said, as on the one hand they open the door for unemployed residents of these areas to join their ranks and enjoy benefits of a salary and influence.
They also use their cultural bureaus to mount campaigns to promote the doctrine of Wilayat al-Faqih and disseminate pictures of Khamenei and other Iranian leaders such as Maj. Gen. Qassem Soleimani, commander of the IRGC's Quds Force, in streets and public squares.
"On the other hand, they force people to convert to their sect or else face detention under [trumped up] charges of terrorism or risk being forcefully removed from their areas or prevented from earning a living," he said.
'Illegitimate power'
Ninawa tribal spokesman Sheikh Muzahim al-Huweit confirmed "the existence of such practices", particularly in Ninawa province.
"The militias are trying to exert their illegitimate power in our area," he told Diyaruna.
They seek to sow sectarian strife by holding classes about Wilayat al-Faqih in Sunni mosques and even in schools and colleges, he said.
They are "attracting a large number of Sunni youths with paychecks and positions in return for renouncing their sect", al-Huweit said.
Iran wants to incite divisions in Sunni-majority cities so that its militias "can take over these cities and strengthen their presence and influence throughout Iraq", he said.
"We have repeatedly warned against the acts of these mercenaries that serve the interest and plans of the Iranians, and everyone -- including the government and local leaders -- must stand against them," he said.
Militias deny freedom of worship
Iran-backed militias, aided by the IRGC, are trying to "sink Iraq into the swamp of sectarianism", said Abdul Qader al-Nayel, a political affairs researcher.
They are putting pressure on Iraqis from all sects to pledge their allegiance to Wilayat al-Faqih, he told Diyaruna.
By doing this, they aim to wipe out sectarian and cultural diversity within Iraqi society, he said.
"Iran-backed militias recently prevented the reopening of an old church in Anbar's al-Habbaniya district even though local volunteers had renovated it and there was popular demand for the return of displaced Christians to the area," he said.
These militias do not wish to see "societal cohesion and diversity" prevail in Iraq, he added.
Residents of liberated areas are now afraid to practice their religious rituals "for fear of persecution by the militias, which deny them their right of freedom of worship", said al-Nayel.
These actions "feed extremism and strife" among the local population and in the region, he said, which paves the way for the IRGC and its militias to expand their influence.
This also serves the IRGC's agenda to open a land route that connects Iran to Lebanon, Syria and the Mediterranean Sea, via Iraq, he added.
'Targeting all Iraqis'
Promoting the doctrine of Wilayat al-Faqih has been a strategic objective for the Iranian regime ever since it was formed, said former MP Omar Abdul Sattar, who is an expert in international relations.
"Iraqi militias such as Asaib Ahl al-Haq, Kataib Hizbullah and al-Nujaba are currently taking it upon themselves to implement this strategy," he told Diyaruna, adding that they also target Iraqi Shias who are loyal to Iraq and cling to their Arab identity.
These militias are acting according to a systemic plan and "are now waging an unrelenting war in [Sunni-majority] provinces by killing, displacing and forcing the civilian population" to renounce their beliefs, he said.