Iraq's border patrol force has been receiving combat training from the international coalition to boost its ability to confront "Islamic State of Iraq and Syria" (ISIS) remnants operating near the frontier.
Last year, 27 border control commando units received training at the Ain al-Assad airbase in Anbar province and at Basmaya base, south-east of Baghdad.
Building the capacity of border control forces is "a top priority" for Iraq, Border Guards Commander Maj. Gen. Hamid Abdullah Ibrahim told Diyaruna, noting that the coalition's help has been "significant and impactful" in this regard.
More than 8,000 security personnel of all ranks have so far benefited from the training, which taught them to manage combat operations, lay traps, apprehend infiltrators and prevent the smuggling of arms and narcotics, Ibrahim said.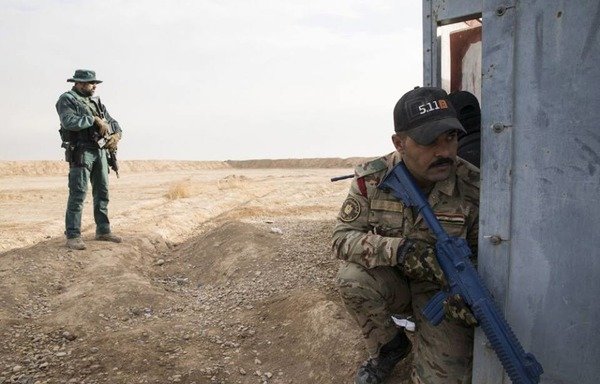 Special unit to protect border
Earlier this month, the Border Patrol Command launched another training programme for its troops that will extend until the end of the year, Ibrahim said.
Each course will last more than three months, he said, noting that previous trainings only lasted for one month.
"These training courses will allow us to form a special commando unit for patrolling the border," he said, adding that these troops will be expected to carry out rapid response tasks in the face of any threat in the border area.
Full approval has been obtained from the Joint Operations Command to form this unit, he said, expressing his hope that it will become "a strike force that hunts down terrorists that try to infiltrate the borders".
The border patrol's leadership will work towards increasing its human and financial resources in order to secure the borders in the aftermath of ISIS's defeat, he said.
The government has pledged to create 5,000 new jobs in this arena, he said, and has promised to allocate funds for a programme to seal the border, particularly the frontier with Syria.
The programme would include "building new roads along the border and ditches, and installing fiberoptic lines", he said, as well as installing a surveillance system with sensors and thermal cameras.
Western border 'more secure'
The border patrol has launched several recent campaigns in the western Anbar desert, with a January 10th raid targeting ISIS pockets in southern al-Rutba.
They have also managed to ward off thermal missiles launched by militants from al-Baghouz area in Syria's Deir Ezzor, he added.
"With cover from the coalition air force, we managed to confront and completely put an end to such attacks," Ibrahim said, noting that border patrol forces are heavily deployed in the area.
Anbar deputy mayor Ali Farhan commended the "high level of preparedness" demonstrated by the border patrol forces, as well as their ability to confront attacks and infiltration.
These forces are receiving training and arms support from the coalition, he said, which "has helped build their capacity in hunting down and targeting armed factions".
"The western border is now more secure, thanks to the training programmes," he told Diyaruna.