Following their decisive victory against the "Islamic State of Iraq and Syria" (ISIS), Iraqi forces are undergoing intensive training to reinforce the skills they acquired during the liberation battles.
"We are dedicated this year to achieving our main goal of building the army's capacity and improving its preparedness, with the help of the international coalition and NATO," said defence ministry spokesman Brig. Gen. Tahseen al-Khafaji.
Coalition trainers are teaching a variety of combat skills as part of a year-long programme, and Iraqi forces are "on track with training according to the agreed timeline", he told Diyaruna.
The training programme covers all military activities, for the army and other security agencies such as the police and counter-terrorism forces, he said.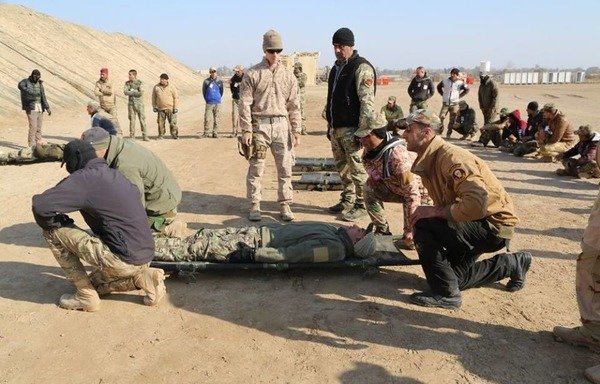 The training covers airdrops, storming buildings and accessing specific targets, which is a necessary skill for soldiers as Iraqi military operations now focus on targeting the places where militants hide, he said.
It also covers advanced military techniques such as combat management and planning attacks and manouevres, he added.
Trainees learn how to target militants from the air, protect the border against infiltrators, conduct reconnaissance missions and search operations and free hostages, he said.
They also are taught how to conduct paramedic interventions during battle and how to evacuate the wounded from the battlefield, he added.
"The training of soldiers is going smoothly," al-Khafaji said. "As soon as a regiment completes training, another one comes in its place."
Cross-agency training
Eight army units will be trained, followed by the same number from the federal police force and border patrol, security expert Saeed al-Jayashi told Diyaruna.
Tribal forces also will be trained in order to augment the efforts of the security forces and maintain stability in the liberated areas, he said.
Since 2014, the coalition has armed and trained a significant number of Iraqi forces and has provided them with logistical support and air cover on the battlefield, al-Jayashi said.
"The coalition is eager to complete its mission to help Iraq develop its security and military institutions," he added.
The current training is both theoretical and practical in nature, he noted, so fighters gain the expertise they need to face the most difficult conditions with a high level of professionalism.
"The massive victory we have achieved over terrorism motivates us to continue our efforts towards building capacity for our forces," al-Jayashi added.