France has been a strong partner and supporter to Iraq in its fight to eradicate the "Islamic State of Iraq and Syria" (ISIS), Iraqi observers said, with these efforts contributing to a brighter future for Iraq and increased regional stability.
Through Task Forces Narvik and Monsabert, the French military has been working to enhance the capabilities and combat skills of Iraqi army personnel.
Both organizations have conducted several theoretical and practical courses to develop the capabilities of the soldiers of the 6th Infantry Division within the framework of a joint co-ordination programme with the Iraqi government.
These have helped the soldiers prepare to fight in urban areas using stealth, manoeuver and rapid response tactics to respond to any surprise attack.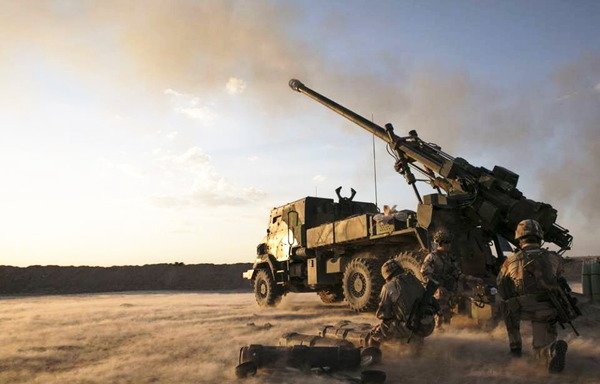 The exercises also enhanced the expertise of military engineering personnel in detecting and disarming improvised explosive devices (IEDs) and landmines.
They taught soldiers how to protect themselves against the effects of chemical attacks, and how to perform first aid for the wounded in the battlefield.
The experience Iraqi soldiers are gaining from these training courses is an essential component of the successes being achieved against terrorism, security expert Jassim Hanoun told Diyaruna.
"France stands at the forefront of countries that have stood with Iraq since day one of the war against ISIS," he said.
"When the liberation battles were launched, the French provided air cover for our forces as they advanced in the battlefields," he noted.
Developing military personnel
"After the war, the partnership shifted focus," Hanoun said.
The emphasis now is on helping build and develop the skills of army personnel, "while maintaining a high level of military intervention and co-operation to eradicate ISIS remnants and pockets", he added.
"This co-operation is reflected in successful artillery attacks launched by French and Iraqi soldiers on the remaining ISIS strongholds in eastern Syria," he said.
In late November, Iraqi and French forces shelled an ISIS headquarters in al-Sahm camp on the Iraqi border with Syria as part of Operation Last Warning, according to an Iraqi Ministry of Defence statement.
The assault followed intensive training and a series of live-fire exercises carried out by Iraqi artillery personnel under the supervision of French trainers at the Basmaya base near Baghdad, he said.
Among them was the Humat al-Watan (Guardians of the Homeland) exercise, carried out by the 6th Artillery Division on October 1st, with focus on hitting specific targets with high precision.
France is committed to assisting Iraq within the framework of its participation in the international coalition, and also as part of the NATO mission in Baghdad, said Al-Nahrain University national security professor Hussein Allawi.
This commitment has been realised through its provision of effective and efficient support to Iraqi army units, the Iraqi Counter-Terrorism Service, the Iraqi Intelligence Service and the Air Force, he told Diyaruna.
A new generation of soldiers
Allawi also credited the French with building a nucleus for a new generation of soldiers trained on the use of the most advanced weapons, technologies and weapons systems, particularly artillery.
"These trained soldiers have become experts and trainers themselves, and are currently taking part in training their fellow soldiers and improving their performance and technical and physical capabilities," he said.
France has been "a strong partner and supporter" of Iraq, he added: "They helped us liberate our land, and are currently taking part with us in targeting terrorist remnants deep in Syrian territory."
"Our partnership with the French side is proceeding steadily and according to a consensual vision," he said, adding that through its support for Iraq, the French side is affirming its pledge to work towards a world without ISIS.
"The French are continuing their efforts to establish peace and international security and eliminate terrorism," Allawi said.
The Iraqi military would benefit from increased French training, military and strategy expert Muayyed Salem al-Juhaishi told Diyaruna.
"The Iraqi army is a large institution with more than half a million troops," he said. "This massive number [of soldiers] requires a large number of trainers."