As the holy month of Ramadan begins, civilians in northern Syria are facing difficult circumstances and many challenges, a local activist said.
In addition to facing high prices and heavy bombardment, many families in Idlib, Hama and Aleppo provinces are facing the additional stress of displacement, activist Haisam al-Idlibi told Diyaruna.
Thousands of families who are native to the area have been displaced by the fresh wave of Syrian regime and Russian airstrikes, he said, including some families who were previously displaced to northern Syria from other areas.
As a result, the atmosphere in the holy month is not what it should be, he said.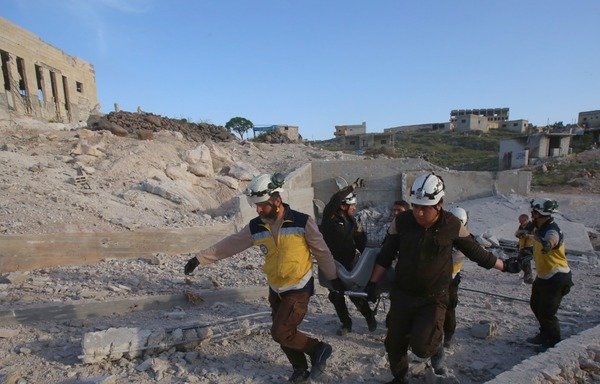 Civilians in northern Syria have been contending with almost non-stop airstrikes and shelling, which has triggered a massive wave of displacement from southern rural Idlib and northern rural Hama, al-Idlibi said.
Tens of thousands have opted to camp out in agricultural areas and orchards, because the border areas where internally displaced persons (IDPs) have previously sought refuge are overcrowded, he said.
The displacement camps in these areas cannot receive any more fleeing IDPs, he said, and many families do not have the financial means to reach them.
On Tuesday (May 7th), airstrikes and shelling killed eight civilians in north-western Syria, AFP reported.
At least 53 fighters have been killed since Monday, in one of the deadliest flare-ups since a demilitarised zone around Idlib was agreed in September last year, the Syrian Observatory for Human Rights said.
Tahrir al-Sham's taxes
Local marketplaces have been almost deserted as a result of the deteriorating security situation, al-Idlibi said.
Residents are fearful to go out shopping in case they are attacked, and at the onset of Ramadan "prices rose to high levels because of the unchecked greed of merchants and high taxes imposed by Tahrir al-Sham", al-Idlibi said.
The extremist alliance, which controls most of the Idlib region, has made it known that it intends to collect zakat, he said.
Many residents see this as a new tax that will not be used as it is meant to be -- to help those in need -- but will instead be used to fill Tahrir al-Sham's coffers.
This is a valid concern, al-Idlibi said, as the extremist alliance has not provided any assistance to displaced or needy families, and continues to actively block relief and humanitarian operations in the region.
For most families in Idlib and in rural Hama and Aleppo, the holy month of Ramadan will be like any other, he said, in terms of special foods and meals.
Some families will do without many items they now view as luxuries, such as certain types of appetizers and sweets, he said, while others "cannot afford to incur any extra cost at all".