Russian airstrikes over the weekend killed more than 20 civilians in rural Idlib province and wounded many others, a local activist said.
Though the Syria Civil Defence Forces (White Helmets) attempted a rescue operation, a number of people died under the rubble of destroyed homes, activist Haisam al-Idlibi told Diyaruna.
Russian military aircraft pummeled rural Idlib with a barrage of missiles on Saturday and Sunday (April 27th and 28th), treating the area as a military operations zone, he said.
The area is part of the buffer zone agreement inked by Russia and Turkey in September to prevent a massive regime offensive targeting the Idlib region.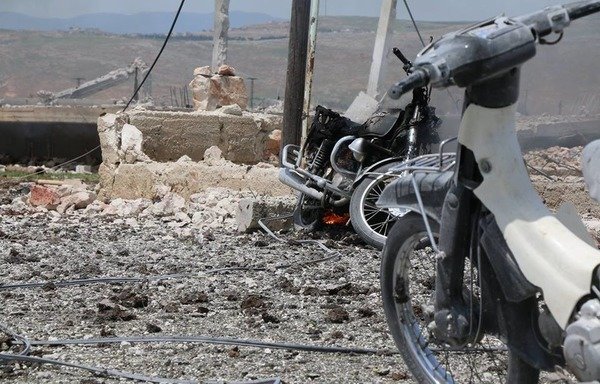 Some of the missiles used by the Russian aircraft were the internationally banned thermobaric missiles, which caused wide-scale destruction in the areas they targeted, al-Idlibi said.
These included the town of al-Beshiriya in Idlib's al-Jabal al-Wastani area and the city of Qalaat al-Madiq, where five civilians were killed, including two disabled persons, he said.
They also included the city of Jisr al-Shughour, the outskirts of al-Moza village, Sahl al-Ghab, Tal Hawash, the city Kafr Nabl, the village of al-Amiqa and Jabal Shahshbow in western rural Hama.
Violation of ceasefire agreement
According to the White Helmets, more than 20 people were killed and a large number were wounded, many of whom remain in critical condition, al-Idlibi said.
The targeted area is supposed to be part of the ceasefire zone that was guaranteed by the Russians themselves, he noted.
But the Russians pummeled the area with a barrage of missiles, backed by the Syrian regime, which bombarded the area with cluster bombs from its positions.
There was no military presence or weapons depots in the targeted areas, al-Idlibi said, pointing out that there were no injuries to combatants despite the heavy bombardment of the area.
Some opposition groups responded to the assault by shelling regime positions and carrying out infiltration operations that targeted checkpoints manned by the Syrian regime and allied militias, he said, killing a number of troops.