Friction between militias affiliated with Iran's Islamic Revolutionary Guard Corps (IRGC) and those affiliated with the Russian forces has been evident in the Syrian city of Aleppo and some parts of Deir Ezzor, a local activist said.
There have been several recent clashes between the two sides, with both parties suffering casualties and injuries, Aleppo activist Ahmed al-Salem told Diyaruna.
"All forces stationed in Aleppo city, extending as far west as the airport in Nayrab, and in certain parts of Deir Ezzor province, are on high alert," he said.
On one side are the Russian Military Police, Liwa al-Quds, and the Syrian Army's 5th Corps, led by pro-Russian Col. Suhail al-Hassan, he said.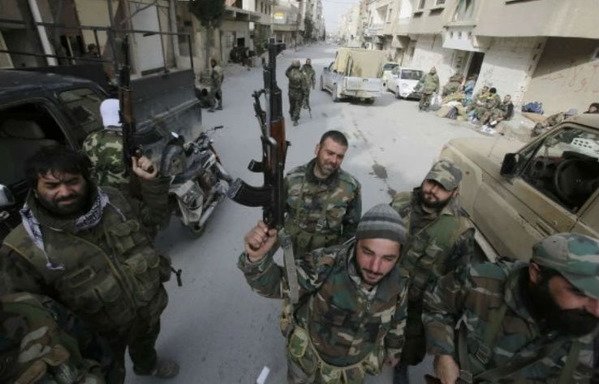 On the other is the IRGC, and a number of IRGC-affiliated militias led by Hizbullah, as well as the Syrian army's 4th Division, led by Maher al-Assad, the brother of the Syrian president.
The clashes were sparked by serious conflicts that arose over the division of territorial control, al-Salem said.
Clashes near Aleppo airport
The Russian Military Police have been trying to take control of al-Nayrab airport on the western outskirts of the city of Aleppo, which is currently one of the IRGC's largest and most important military bases in the region, al-Salem said.
Clashes that took place near the airport left a number of members of an IRGC-affiliated militia dead and wounded some Russian military police, he said.
Meanwhile, fierce clashes that took place between the two sides in Aleppo's al-Khalidiyah district left a number of combatants and civilians dead or wounded.
According to al-Salem, tensions arose about two weeks ago in the Deir Ezzor region after IRGC-affiliated elements intercepted a Russian military police patrol in the city of Albu Kamal, with the incident leading to casualties on both sides.
Similar incidents have taken place in Daraa, Busra al-Sham, Nubl and al-Zahraa throughout the recent period, he said, adding that calm was restored to those areas through local efforts without the two main parties reaching an agreement.
"Civilians in those areas are fearful that the fighting between the two sides will spread," he said, as a large number of them have returned after a long period of displacement and do not wish to be embroiled in further conflict.