The Iraqi government has stepped up relief efforts to evacuate thousands of families whose areas have been flooded by torrential rainfall in displacement camps and villages located near rivers, lakes and valleys.
Local authorities have launched a large-scale campaign with the participation of security forces to evacuate and assist affected families.
Weeks of rain compounded by melting snowcaps in neighbouring Turkey and Iran have almost filled Iraq's four main reservoirs and swelled the Tigris and Euphrates rivers.
In Samarra, north of Baghdad, water is being diverted into the natural reservoir at al-Tharthar Lake in amounts unseen in decades, said dam chief Kareem Hassan.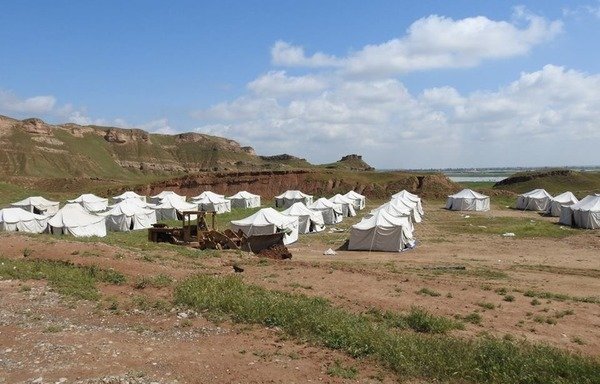 "Today, the al-Tharthar barrage is seeing the highest levels of water passing through in its history," Hassan told AFP Thursday (April 11th).
"We have not seen such levels pass through the structure since it was founded in 1956, so 63 years," he said.
Rainstorms have swept away and flooded a number of tents at displacement camps in Ninawa province, and trapped residents of remote villages located near bodies of water.
Thousands of families affected
The Ministry of Migration and Displacement "is strongly involved in national efforts to help all those affected by rain and floods through a special emergency programme that has been set up in advance", said Ali Abbas Jahankir, assistant director general of the ministry's department of branch affairs.
"Our ministry and the Water Resources Ministry have a joint operations room," he told Diyaruna, adding that a ministry representative is working with the government's crisis cell to deal with the effects of the floods.
The ministry has evacuated thousands of people living on the banks of rivers and streams and near high ground, he said.
A total of 2,300 families throughout Iraq have been affected, including more than 500 families in Maysan province, 300 families in Salaheddine and 100 families in Wasit.
Operations to evacuate the residents of flooded villages continue, he said, as do efforts to provide shelter, urgent food shipments and relief items such as blankets, mattresses and cooking utensils.
Situation 'under control'
The risk of flooding is now waning and the situation is "under control", Jahankir said, as new channels have been built to divert the water to ponds and natural lakes such as al-Tharthar, al-Razaza and al-Habbaniya.
Authorities are providing support to internally displaced persons (IDPs) residing in camps by rehabilitating and replacing all damaged tents, he said, noting that dozens of tents in al-Qayyarah camp, south of Mosul, have been replaced.
The number of IDPs in Iraq has decreased to 1.5 million from about six million during the war against the "Islamic State of Iraq and Syria" (ISIS), Jahankir said.
"Most remaining IDPs are residents of Ninawa, and to a lesser extent the provinces of Salaheddine and Anbar," he said.
The ministry is making efforts to overcome the challenges standing in the way of a voluntary return of IDPs, he said, which include "the lack of public services in liberated areas and the complete destruction of many homes during the war".