The Iraqi government worked over the weekend to respond to a crisis caused by flooding in the country's north as the result of recent heavy rains.
At least 21 people died, another 180 were injured and tens of thousands were displaced by heavy rains that began Friday (November 23rd), with women and children among the dead, the UN and the Ministry of Health said Sunday.
Some drowned, others died in car accidents, were electrocuted or were trapped when their houses collapsed, health ministry spokesman Seif al-Badr told AFP.
The UN's Iraq office said the downpour had forced tens of thousands of people out of their homes.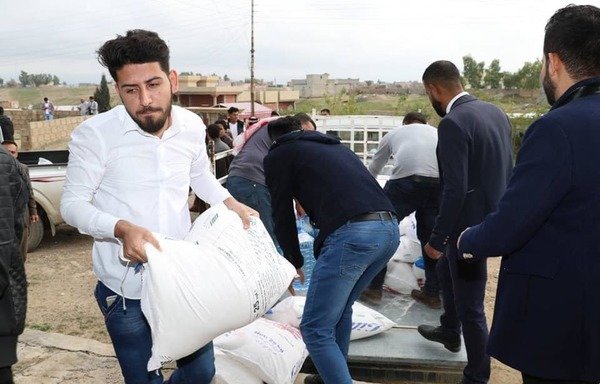 Around 10,000 people in Salaheddine province and 15,000 in Ninawa were in desperate need of help, including families in displacement camps who were displaced after the "Islamic State of Iraq and Syria" (ISIS) took over their areas in 2014, the UN said.
In Salaheddine's al-Sharqat district, thousands of homes were completely inundated by the rains, while in the Ninawa city of Mosul, the heavy storms submerged two floating bridges along the Tigris river, which bisects the city.
Relief to the displaced
Prime Minister Adel Abdel Mahdi on Friday announced he was establishing a crisis cell of security forces and local authorities to co-ordinate a response.
Since then, the Ministry of Migration and Displacement has provided relief to thousands of residents of flooded displacement camps, said Ali Abbas Jahankir, assistant director general of the ministry's department of branch affairs.
This was done in co-ordination with the Iraqi army, other government agencies and international organisations, he told Diyaruna.
The record-breaking volume of water caused the partial submersion of about 5,000 tents in 13 camps to the south of Mosul, Jahankir said.
"Immediately after the crisis started, we took all necessary measures to address it," he said. "The IDPs were evacuated, the water was removed from their camps and the damages to the tents and infrastructure were repaired."
Camp residents were then able to return, he said, noting that families have been provided with food aid and relief, as well as -- in co-operation with the UN -- blankets, bedding, mattresses and other necessities.
Ministry of Commerce personnel have distributed supplies, and the Ministry of Oil has provided heating fuel, he said, stressing that the crisis has been contained, and the situation has returned to normal in the camps.
Weather-proofing measures
Some time ago, the Ministry of Migration and Displacement began to replace worn-out tents that were not capable of standing up to the weather conditions, Jahankir said, adding that "we will boost our efforts in this regard".
Meanwhile, he noted, military engineering teams are working to construct earth berms around the camps to protect them from a future deluge of floodwater.
The ministry has been working with other ministries, organisations and volunteer teams to provide relief to hundreds of villagers in al-Sharqat valleys whose houses have been flooded and farms washed away, Jahankir said.
"Army forces evacuated about 2,000 villagers who were surrounded by water to safe areas, and we later transferred them to an old camp and equipped them with food and urgent relief aid," he said.
"There is currently a large government push to drain the villages of water by discharging it into the Tigris river and al-Tharthar Basin, and to repair the damages in order to enable the people to return quickly to their areas," he said.