Residents of the Ain Issa camp in northern Syria are suffering from tragic conditions due to the heavy rains that hit the area two days ago, tearing apart their tents, according to the al-Raqa Civil Council.
Ain Issa, in northern rural al-Raqa province, houses more than 23,000 internally displaced persons (IDPs) from al-Raqa, Deir Ezzor and Iraq who fled there to escape the "Islamic State of Iraq and Syria" (ISIS).
Dozens of tents are now completely uninhabitable, as water has flooded several parts of the camp, "turning it into a large water pool", said al-Raqa Civil Council member Mahmoud al-Fayyad, who manages the camp.
"The camp's administration is trying to do what it can with the available means," he told Diyaruna, noting that the al-Raqa Civil Council is replacing tents, mattresses and blankets damaged by the flooding.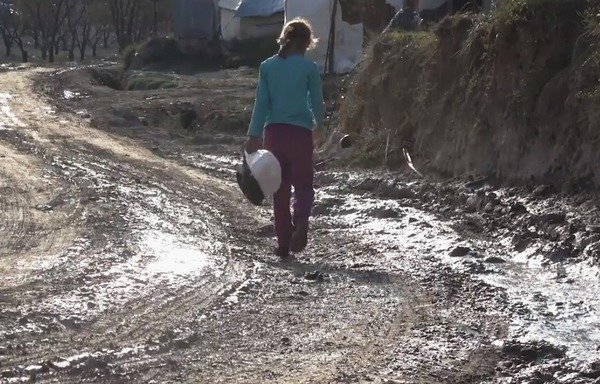 In co-operation with relief organisations, the council is increasing medical and emergency services, with a focus on treating children with the flu and bronchitis, he said.
It also is distributing heating equipment and fuel, as well as blankets, winter clothes and rain insulation for tents.
Tents pose "a complicated problem" as the strong winds that accompanied the rain tore them apart, rendering them uninhabitable, he said.
"The camp has become a big pool of water and dozens of families are now homeless," Ain Issa camp resident Ahmed al-Saadoun, 50, told Diyaruna.
Residents whose tents were kept intact despite the heavy rain and winds are hosting families who lost their tents until they receive new ones, he said.
Extensive work is needed to prevent a repeat of the tragedy, al-Saadoun said, noting the need to raise the level of the ground beneath the tents with stones or concrete.
However, "this is unlikely to happen due to its high cost and the camp administration's lack of financial resources", he said.