Iraqi artists have been using their canvases to portray both the difficult years in Mosul, when the "Islamic State of Iraq and Syria" (ISIS) was in control, and themes of transcendence and revival.
Since Iraqi forces reclaimed Mosul from ISIS, which had imposed its harsh rule on the city between 2014 and 2017, the city has seen a flurry of cultural events and the return of a vibrant art scene.
Local artists who spoke with Diyaruna said their work serves as a form of artistic documentation of the crimes committed by ISIS and of the city's resilience.
Artist Ali Abdul Jabbar told Diyaruna he has presented 50 paintings at several local exhibitions that portray the suffering of his hometown through blended lines and Arabic calligraphy.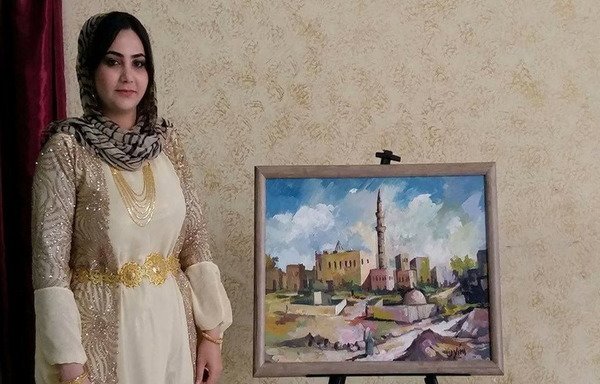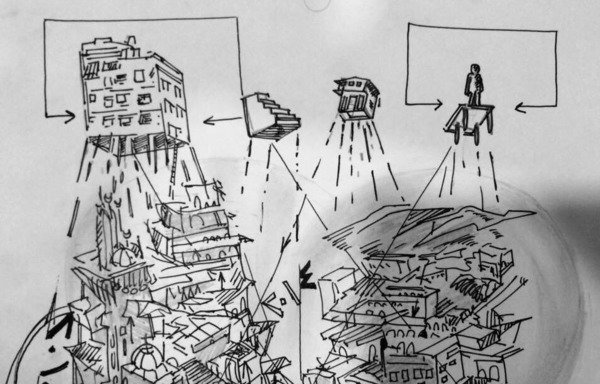 His paintings are infused with symbolism and address themes related to the state of Mosul after ISIS took over and the destruction the group left behind, he said.
Through the paintings, he said, he and other artists want to create a new cultural memory for their city.
"What happened was frightening and painful," he said. "Terrorism destroyed ancient buildings and monuments, with the intention of erasing a civilisation that goes back thousands of years."
"Today, we are trying to shed light on this dark period in the history of our city, with all its pain and suffering, through our art," he said. "The paintings document the events that took place, so that generations to come can see."
In addition to chronicling this era of destruction, however, Abdul Jabbar said his art also portrays the rise of his city from the ashes and its persistence in following the path towards reconstruction.
Stories of suffering and hope
The latest and largest art exhibition since the city's liberation, "Return to Mosul, Struggle for Life", was held at the Mosul Museum's royal reception hall on January 29th, with 29 participating artists.
The museum, which had been looted and destroyed by ISIS, recently reopened.
One of the participating artists, Sheelan Namiq, was forced to leave her city following the ISIS incursion. She told Diyaruna she used her paintbrush as a weapon through which to express her rage against the extremist group's crimes.
"I have organised three private exhibitions since I was displaced to the Kurdish region, and I now have around 100 paintings, with several themes about the tragedy that befell my city," she said.
"In paintings, I documented what the terrorists did, such as destroying the old mosques and churches, the artefacts and the museums," she said. "My paintings also address people's suffering as they were forced to flee Mosul."
Namiq said her paintings "also portray the liberation of the city, and include themes of utmost joy that Iraqis of all sects felt after the liberation of Mosul".
They show "how the people of Mosul stood together and supported the security forces and the reconstruction efforts", she said.
"Mosul is the cradle of history, art and civilisation," Namiq said. "This city has started to take its first steps towards regaining its lustre by hosting exhibitions and artistic events and rebuilding historical and cultural buildings."
Documenting a dark era in Mosul
Ninawa provincial council member Khalaf al-Hadidi told Diyaruna he has attended several recent art exhibitions in Mosul, including some events that hosted artists from other Arab countries.
"The artists presented paintings that carried a message renouncing extremism," he said.
"ISIS tried to spread [extremism] in the city through its hostility to art, heritage and monuments, and its attempt to demote the values of tolerance, co-existence and openness," al-Hadidi said.
"These exhibitions and all other cultural activities that address the dark ISIS era have a documentary dimension," he said, noting that "every work of art is like a historical record that artistically condemns ISIS's horrific acts".
"Art mirrors reality," al-Hadidi said, pointing out that "events that occurred in Mosul and other Iraqi cities have to be documented with art, theatre and literature so they can stay in the minds of future generations".
This will serve as "a stain on the foreheads of terrorists, as well as an incentive for societal cohesion and advancement of the country", he said.