Artistic activities of all kinds, which were banned in Mosul while it was under the control of the "Islamic State of Iraq and Syria" (ISIS), are experiencing a revival.
The University of Mosul's College of Fine Arts has been spearheading the return of a vibrant art scene to the Ninawa province city, with other institutions and various grassroots initiatives joining force.
The University of Mosul suffered heavy damage at the hands of ISIS elements, who wanted to wipe it out of existence and banned the study or practice of the arts, which their extremist ideology considered to be "against religion".
When Iraqi forces regained control of the city, however, art students resumed their studies, and exhibitions of paintings and sculptures began to reappear, along with theatre productions and choral and music festivals.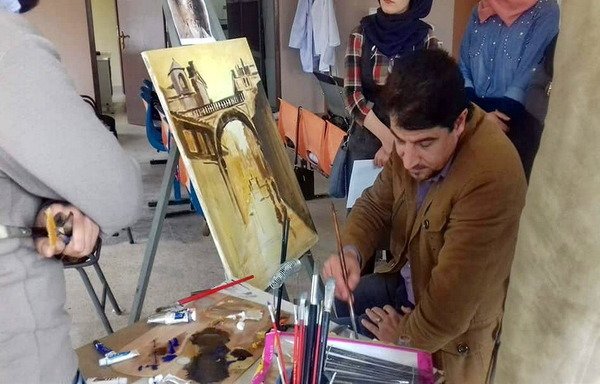 Some artists chose to portray the bitterness they experienced during ISIS's rule, when they suffered from acts of violence or persecution.
Others have brought more optimistic themes of hope and a bright future to their work, showing their determination to walk along the path of freedom towards reconstruction, Ninawa education director Waheed Fareed told Diyaruna.
"Art carries a humanitarian message that extremist ideology cannot obliterate, regardless of concerted efforts to silence and oppress it," he said. "It will grow and prosper once again."
"When the terrorists took over our city, the first thing they did was destroy fine art institutes," Fareed said, adding that the group also systematically destroyed scholastic activities that involved art.
"ISIS was very strict when it came to art and culture, since its destructive belief system banned such interests," he said. "Anyone who violated that belief system was severely punished."
An artistic revival
The liberation of Mosul opened the door wide for an artistic revival, Fareed said.
"We have started rebuilding fine arts institutes, and there are regular classes again at alternative locations with high student attendance," he told Diyaruna.
Art-based activities have been taking place with increasing frequency, he said, as students and artists seek to develop their identities and interests.
They have suffered heavily from deprivation, he added, and want to express that suffering, as well as their aspirations, through innovative productions.
The University of Mosul's College of Fine Arts was targeted and vandalised by ISIS elements, but is today "in better shape after reconstruction efforts", university president Abuy Saeed al-Dewachi told Diyaruna.
"All departments at the college have been reopened, and evening classes are also back, with plans to expand the college by opening new departments as soon as funds become available," he said.
At the same time, there has been a flurry of activity at the College of Fine Arts to organise a variety of events such as festivals, exhibitions and plays.
A spirit of defiance
"We want to get rid of the remnants of ISIS ideology and confirm that freedom is priceless, and that art can be harnessed in the service of patriotism, stability and development," al-Dewachi said.
The spirit of defiance is strong, Ninawa provincial council member Hosam Eddin al-Abbar told Diyaruna.
Despite its tyranny, ISIS did not succeed in stamping out art in Mosul, he said.
The group destroyed theatres and the studios where painters worked, he said, as well as targeted artistic landmarks, including a statue of prominent Iraqi musician Othman al-Mosuli.
"Right after liberation, artists and art students organised theatrical performances atop the rubble of heritage buildings and landmarks to make a statement that art does not die," al-Abbar said.
With these actions, they also sought to express their determination to paint a brighter tomorrow for their city, he said.
"Our city is a mosaic of cultures due to its societal diversity, and has given Iraqi culture a wealth of leading theatre professionals, actors, artists and musicians," he said. "This stream will continue giving and innovating."