DAKAR, Senegal -- Malian forces and members of the Russian mercenary group Wagner executed about 300 civilians in late March, Human Rights Watch (HRW) said on Tuesday (April 5).
In a report, the rights group suggested that the alleged massacre perpetrated over four days, in the town of Moura, was a war crime.
Malian soldiers and white foreign fighters arrived in the town by helicopter on March 27 and exchanged fire with about 30 Islamist fighters, several witnesses told HRW. Some extremists then attempted to blend in with the local population.
Over the ensuing days, Malian and foreign fighters allegedly rounded up civilians and executed them in small groups.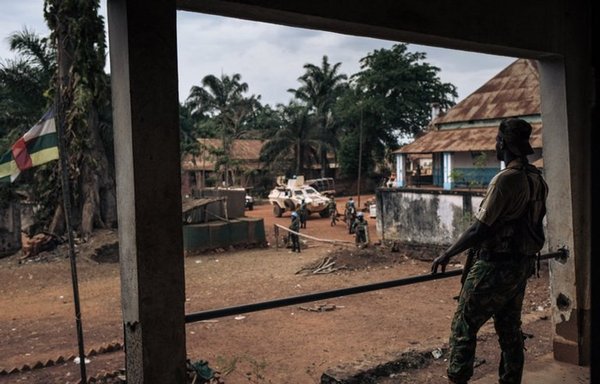 About 300 people were killed in total, with the vast majority of the victims being ethnic Fulanis, estimates HRW.
"The incident is the worst single atrocity reported in Mali's decade-long armed conflict," the report said.
Faced with the multiplication of testimonies reported by the press, the army issued a new statement late Tuesday, dismissing the "unfounded allegations" which it said were aimed at "tarnishing the image" of the armed forces.
The United States, European Union, United Nations (UN) and France, Mali's former colonial power, have all raised concerns about the possible killing of civilians in Moura.
Several witnesses and other sources identified the foreign soldiers as Russians to HRW.
Russia has supplied what are officially described as military instructors to Mali, an impoverished country that has been battling an insurgency since 2012.
However, the United States, France and others, say the instructors are operatives from the Russian private-security firm Wagner.
In late March, Mali's government formally received two helicopters, radar and other equipment brought by a Russian transport plane to a military base at Bamako airport.
The delivery adds to at least four helicopters and weapons provided by Russia under closer ties forged by rebel colonels who seized power in 2020.
Mercenary pipeline
Mali was among 35 countries that abstained in the UN General Assembly vote in March that condemned Russia's invasion of Ukraine by an overwhelming majority and demanded the Kremlin immediately halt its operations.
Russia's Wagner Group has deployed its mercenaries to eastern Ukraine, the United Kingdom's ministry of defence said in late March, adding that more than 1,000 would likely fight in Ukraine following Russian setbacks.
"Due to heavy losses and a largely stalled invasion, Russia has highly likely been forced to reprioritise Wagner personnel for Ukraine at the expense of operations in Africa and Syria," the UK defence ministry said.
The Kremlin has even stepped up its recruitment of Syrian youth into Wagner's ranks to use them as cannon fodder for its assault on Ukraine, observers said.
This strategy is designed to minimise the risk to Russian soldiers and reduce the number of Russian casualties, they said, in order to prevent unrest in the Russian interior.
Wagner mercenaries first deployed to Ukraine in 2014, when Russia annexed Crimea. Since then, Russia has been fuelling a simmering separatist conflict in the east of the country that has claimed more than 13,000 lives.
In subsequent years, Wagner mercenaries have been involved in conflicts around the world, including in Syria, Mozambique, Sudan, Venezuela, Libya, the Central African Republic (CAR), Chad and Mali.
The Carnegie Endowment for International Peace think-tank has described Wagner as "one of Moscow's worst kept secrets".
It said the group has two primary goals: "to provide the Kremlin with plausible deniability when deploying fighters in war zones" and to offer "a ready-made capability for building influence with receptive states".
Russian businessman Yevgeny Prigozhin, an ally of Russian President Vladimir Putin, is believed to be the money behind the Wagner Group.
Prigozhin has also bankrolled several movies that attempt to portray Wagner Group mercenaries as "heroic".
The latest film, "Granit", though filmed in the CAR, is set in Mozambique, where Wagner Group "instructors" helped the Mozambican army in its fight against Islamist insurgents in 2019.
It comes a few months after "The Tourist", which chronicles the recapture of rebel-held territory by CAR forces and their Russian allies.