Chinese investment has regularly triggered popular resentment and suspicion in Iraq, where many regard it as exploitative and self-serving, Iraqi analysts said.
Iraqi authorities are investigating an attack on a Chinese oil services company in Dhi Qar province, and have so far made six arrests, AFP reported.
Though the December 28 incident caused no casualties or substantial damage, analysts said it is indicative of the tensions surrounding Chinese investment.
Protesters have gathered in Dhi Qar and other southern provinces in recent weeks to demand jobs and services and an end to rampant corruption.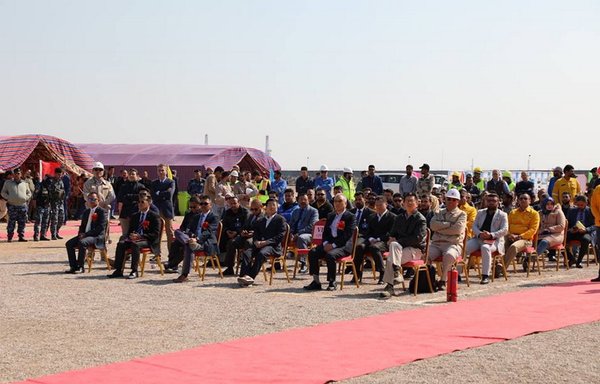 According to an official of the Dhi Qar oil company, the attack was an attempt to pressure the Chinese company into providing jobs for the local population.
"The headquarters of the Chinese company ZPEC, which operates in al-Gharraf field north of Nasiriyah, was targeted with a rocket and live ammunition," said Karim al-Jandil, spokesman for the state-run Dhi Qar oil company.
But the rocket failed to explode, a security official said, and the only damage to the site was bullet holes in a nearby trailer.
The Chinese company is in charge of drilling wells in al-Gharraf oil field.
Failure to hire locals
"The poor living conditions experienced by the local population" in Dhi Qar may have motivated the attack on the Chinese company, political analyst Alaa al-Nashou told Al-Mashareq.
More than 10 million Iraqis have fallen below the poverty line, he said, with unemployment running high as a result of corruption, bad policies and political conflicts.
To make matters worse, he added, "Residents today are disappointed by the arrival of foreign companies that invest [in Iraq] but do not provide jobs in those projects for the national workforce".
This failure to hire local employees violates most contracts, which stipulate that 40% must be hired from the local workforce, al-Nashou noted.
The government is responsible for ensuring that companies abide by the legally set quotas and hire Iraqis, he said, and for ensuring that investment projects contribute more effectively to improving local economic conditions.
Militias that engage in dubious activities, illegal trade and corrupt practices are largely to blame for the decline in the standard of living for many Iraqis, he said.
These militias are mainly looking after their own interests and those of their backer, Iran, he said -- and by extension, Iran's strategic ally, China.
Iran and China are seeking to dominate Iraq economically and exploit its resources, he said, to the detriment of the Iraqi people.
"China is seeking to expand its foothold in Iraq by implementing investment projects that primarily serve its economic goals," he said, noting that China is racing to secure foreign investments so it can boost its international standing.
Beijing is ready to do anything to secure its strategic interests, without any regard for the interests of other peoples, al-Nashou said.
Indebted to China
Previous Chinese ventures in Iraq also have triggered resentment.
In 2009, a local rights movement sprang up in Wasit province, fueled by public anger over a deal China's biggest oil company signed with the Iraqi government for the development of an oil field, The New York Times reported.
Locals disgruntled by the presence of a foreign company with vast resources in their impoverished province called for at least $1 from each barrel of oil produced at the Ahdab field to be used to improve access to services in Wasit.
Frustrations also spilled over into sabotage and intimidation of Chinese oil workers, the newspaper said.
Since then, the Iraqi government has signed a series of agreements to join China's Belt and Road Initiative (BRI), a massive global network of ports, railways, roads and industrial parks.
While the BRI will see trillions invested in new infrastructure, it has faced criticism for encumbering poor nations with crippling debt and is seen as an attempt by China to extend and expand its influence.
Iran-aligned militias such as Kataib Hizbullah and Asaib Ahl al-Haq have been calling for the activation of the Iraqi-Chinese "oil for reconstruction" agreement forged on September 23, 2019.
The 20-year agreement has not been implemented because of objections raised at the time and intense ongoing debate over the details of its provisions.
Objections are centred around fears that closer ties with China would merely serve the Iranian regime, which seeks to boost its own interests at the expense of the Iraqi economy.
The truth is that such investments will be a "lifeline" for the Iranian economy and regime -- which is on the verge of collapse -- at the expense of Iraq's wealth and the future of its population, said political analyst Ghanem al-Abed.
The militias want Iraq to gravitate towards the Iran-China-Russia axis, he said.
Critics of the agreement say it would mortgage off Iraqi oil to China for many years and would leave Iraq in China's debt.