Iran-backed militias are seeking to clear the way for Chinese investment in Iraq by creating an unwelcoming climate for business interests and scaring off potential competitors, Iraqi analysts said.
Their actions and threats serve the agenda of the Iranian regime, which has close relations with the Chinese, they said, but will ultimately prove harmful to Iraq's economy and its people, by pushing it away from the West.
Recent attacks against Western interests in Iraq have aimed at taking international companies out of the competition, they said.
Despite the pressures Iran's proxies are bringing to bear, however, it is unlikely that China will be awarded the lion's share of investment projects in Iraq.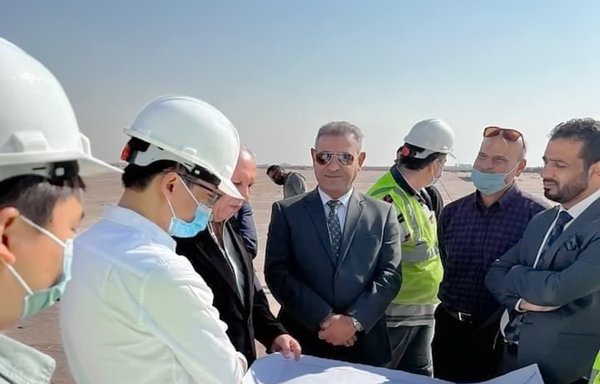 When it comes to foreign investment in Iraq, the sense of insecurity remains the biggest obstacle, Al-Iraqiya University economics professor Abdul Rahman al-Mashhadani told Al-Mashareq.
"The rocket attacks on embassies, international missions and airports send negative messages to the world and reinforce the investment companies' qualms about taking on the high level of risk," he said.
These attacks, which have been widely blamed on Iran-backed militias, risk driving away future investment from Western countries, he added, as companies fear they will become a target for the militias.
Those security concerns "serve the interest of the Chinese, who have no problem with these groups and move freely without security precautions in Iraq", al-Mashhadani said.
The resulting lack of competition also puts pressure on Iraq to accept the Chinese investment, he said, especially since Beijing offers investment "inducements".
These include its willingness to work in high risk environments and to finance projects to be paid on credit from oil sales revenues, he said.
The decline in the performance of Iraq's public service sector is another factor pressuring Iraqi decision-makers to sign contracts with any international party wishing to invest, al-Mashhadani added.
Opposition to oil sales plan
Iran-aligned militias such as Kataib Hizbullah and Asaib Ahl al-Haq have been calling for the activation of the Iraqi-Chinese "oil for reconstruction" agreement forged on September 23, 2019.
The 20-year agreement has not been implemented because of objections raised at the time and intense ongoing debate over the details of its provisions.
Many Iraqis felt it was mortgaging their oil wealth to the Chinese and their Iranian allies for two decades.
The government opposed the deal, despite pressure from the militias, al-Mashhadani said. But it is still being promoted politically "to anger the government".
Meanwhile, Chinese investment in Iraq has continued.
China has said it plans to invest about $30 billion in the Iraqi oil industry, and to implement projects in the construction and services sectors.
It plans to maintain its lead as the largest exporter of goods to Iraq, after accounting for 15.8% of total Iraqi imports in 2020, per official statistics.
Many contracts were signed with Chinese companies last year: to build 1,000 schools, construct a crude oil refinery and a petrochemical complex in the Basra port of al-Faw, and build solar power plants in Iraq.
On January 20, a contract was signed with the Chinese company Sinopec to develop the Mansouriya gas field in Diyala province.
China taking advantage
By boosting its investments in Iraq, China aims to integrate Iraq into its Belt and Road Initiative (BRI), political analyst Thaer al-Bayati said.
China's investments in Iraq serve its goals, he said, which include boosting its revenues from the export of goods and commodities along trade routes it controls, and imposing its hegemony on the global trade market.
"China is trying to exploit crises to expand economically in regional conflict areas and in Iraq by signing contracts or buying the assets of international companies," he said.
Iran-backed militias are seeking to clear the investment arena for the Chinese and to defend Chinese interests in accordance with directives from Iran, al-Bayati noted.
The militias are pressuring Iraq to join the Iranian-Chinese axis, he added, despite Iraq's efforts to move away from it, diversify its sources of investments, and open up to the Arab and international environments.
But a reading of the current political situation does not support the notion that the militias are succeeding in their endeavour to give China the lion's share of investment opportunities, he said.
"The militias lost their sway when they lost the last elections," he said.
He noted that a new political alliance that is beginning to form between Muqtada al-Sadr's movement and the Sunnis and Kurds to establish a majority government stands against the ambitions of Iran and its proxies and allies.