China is attempting to extend its economic influence into the Middle East and the oil-rich Gulf by aggressively pursuing a strategic partnership with Iran, observers said, using the Islamic Republic as a fulcrum.
To this end, Beijing is launching projects in the region and promising huge sectoral investment by concluding deals with Middle Eastern countries as part of an "oil for construction" programme.
A linchpin of this strategy is the Belt and Road Initiative (BRI), also known as One Belt One Road (OBOR), launched by Chinese President Xi Jinping in 2013, which aims to construct a wide network of infrastructure projects from East Asia to Europe and Africa.
The overarching goal of the BRI is to make the global economy dependent on China, analysts said.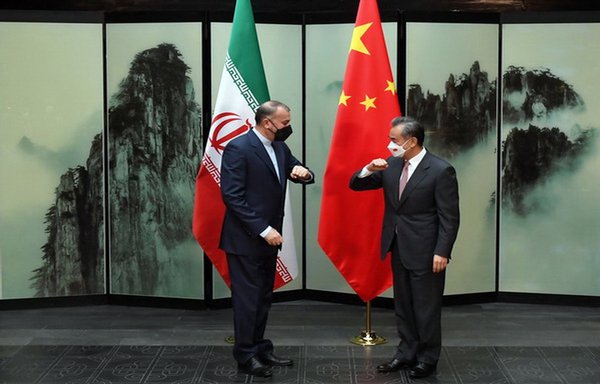 The estimated $1 trillion initiative extends beyond any commercial or economic goal, in that it seeks to consolidate China's political weight and influence on the formulation of international policies and decisions, they added.
In its pursuit of hegemony, China is moving strongly towards its ally, Iran, to establish long-term relations that serve the interests of both sides.
In mid-January, Tehran announced it was beginning the implementation of a 25-year Comprehensive Strategic Co-operation Agreement (CSCA) with China, signed last year.
Under the terms of the agreement, Iran would be involved in the BRI through the launch of investment projects worth $400 billion.
In exchange, China would buy Iranian oil at a 30% discount on its price on the world market, Iraqi Centre for Strategic Studies director Ghazi Faisal Hussein told Al-Mashareq.
Despite the international sanctions imposed on Tehran, China remains one of the main importers of Iranian oil, with exports secretly shipped to Beijing reportedly hitting a record level in the first quarter of this year at 840,000 barrels per day.
Common objectives
"Both China and Iran have common objectives in this strategic co-operation," Hussein said.
"China aspires to become a global economic centre of gravity by putting its hands on the region's enormous mineral resources," he explained.
Meanwhile, he added, "Iran wants to strengthen its relations with international partners such as China and Russia in the face of Western sanctions."
Iran's interest in strengthening its ties with China is also linked to Beijing's role in supporting Iran's armament industries, theorised Hussein.
This includes its ballistic missile programme, nuclear projects that cost billions of dollars, and Iran's proxy wars to undermine regional stability, he said.
Tehran has priority, second only to Russia, in obtaining military expertise and modern weapons from China, which is Iran's largest supplier of weapons.
A series of high-level meetings have taken place between officials of the two sides since last year, most recently on April 27, with the visit of Chinese defence minister Wei Fenghe to Tehran.
This co-operation has raised suspicion among the Gulf states, analysts said, as China remains a guarantor of Iran's security and a sponsor of its subversive role in the region.
This is despite China's claim that it wants to get closer to Middle Eastern countries by encouraging them to get involved in the BRI and indicating it will speed up free-trade negotiations.
China imports 40% of its oil needs from the Gulf, while trade between the two sides amounted to $180 billion in 2020.
"China also does not ignore the importance of Iraq, which has massive energy reserves," Hussein said.
Chinese interests in Iraq
Iraqi militias affiliated with the Islamic Revolutionary Guard Corps (IRGC) have been exerting pressure to promote and protect Chinese interests in Iraq, based on Tehran's vision of "turning to the East", Hussein said.
The militias that seek to establish a strategic area of influence for Iran also are trying to benefit from its support for Chinese investments to maximise their wealth, he added.
Under the auspices of the BRI, China has given Iraq $10.5 billion in financing since last year to build infrastructure projects, including a power plant and an airport.
Despite this, however, Baghdad does not want China to monopolise the Iraqi investment market, analysts said.
The Iraqi government last year objected to the conclusion of three deals through which China intended to buy stakes in oil investments from international companies, Reuters reported May 17.
Iraqi officials expressed concern that giving Chinese companies more control over the country's oil fields might accelerate the departure of Western oil companies, and make Iraq a less attractive arena for foreign investment.
"We do not want the Iraqi energy sector to be described as an energy sector led by China, and this position is agreed upon between the government and the Ministry of Oil," an unnamed Iraqi official told Reuters.
"China's investment presence is not important to Iraq, compared to the strength and prestige of US and European investment companies," he said.