BAGHDAD -- The Iraqi capital, which often makes grim headlines for violence and geopolitical rivalry, is experiencing an artistic renaissance, with art exhibitions, theatre festivals and book fairs on the Tigris.
Behind the conflict and tensions, a fledgling cultural renaissance has emerged in recent years, recalling a golden age when Baghdad was considered one of the Arab world's cultural capitals.
Galleries have opened and festivals have blossomed, attracting crowds eager to make up for lost time.
"People need art; they want to develop their artistic taste -- it's an escape route," said Noor Alaa al-Din, director of the art space The Gallery. "We are like any country; we have the right to art to entertain us."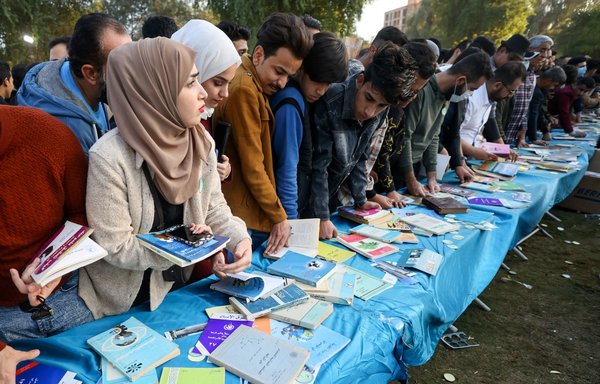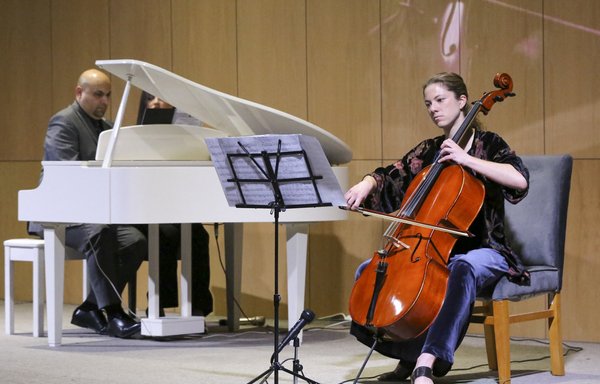 The Gallery opened its doors barely a month ago, but visitors queue around the corner on opening night of any show.
"Art allows us to alleviate the stress of our daily lives," said Amir, a 25-year-old pharmacist, from outside The Gallery.
The cultural revival comes as Iraq regains its footing after declaring victory over the "Islamic State of Iraq and Syria" (ISIS) in 2017.
The group overran swathes of northern Iraq in 2014, imposing its control over a number of key cities during an era marked by its brutality and bloodshed.
Though ISIS sleeper cells still conduct periodic attacks, the security situation has seen a dramatic improvement, despite the emergence of fresh challenges from Iran-backed militias, who have carried out rocket and drone attacks.
The militias sometimes target Baghdad's highly fortified Green Zone, and in July, an ISIS suicide bomber attacked a busy market in Sadr City ahead of Eid al-Adha, killing at least 36 people and wounding about 60 others.
Baghdad also has been the site of a massive popular protest movement that gained momentum in 2019, with Iraqis calling for an end to government corruption and the outsized influence of Iran in their country.
'Goosebumps and tears'
On a balmy November afternoon, thousands of visitors gathered along the banks of the Tigris for the eighth edition of a book festival.
Organisers of the "I am an Iraqi, I read" event were distributing 30,000 books for free, from fiction to philosophy and foreign languages.
A folk singer accompanied by traditional instruments performed as fashionably dressed youth, couples with small children and seniors enjoyed the event.
Baghdad also hosted the second edition of an international theatre festival in November, organised by the Ministry of Culture, Tourism and Antiquities.
"The audience overflowed from the hall" in the opening days, said host venue director Ali Abbas.
"Iraqis used to be afraid to go out into the streets," he said. "The situation has changed dramatically."
Troupes hailing from Egypt, Tunisia, Germany and Italy performed for free, and Iraqis too had a chance to shine.
German actor Hanno Friedrich, on his first trip to Baghdad, was performing at the festival with his play "Tyll", adapted from a novel mixing European folklore and the Thirty Years War, a 17th century religious conflict.
"They told us, 'Don't go; it's dangerous'," the 55-year-old said -- but his experience shattered those stereotypes.
"People climbed onstage and hugged us. They told us they had never seen anything like that," he said. "We had goosebumps, and tears in our eyes."
Arab women directors
Iraqi actress and director Zahraa Ghandour, 30, is among the artists contributing to the country's cultural revival, with her feature documentary "Women of my Life", screened at Egypt's El-Gouna Film Festival in early December.
She is among a cohort of young Arab women directors who are making their mark with documentaries tackling subjects ranging from femicide to revolution.
"The main theme is the life and death of young women and girls in Iraq. It explores how Iraqi society deals with femicide as if it's normal," she said, from the sidelines of the festival on the Red Sea.
"In the last few years, a new generation has come to the fore born in the '90s and 2000s with a new direction," Ghandour said, especially after the October 2019 protest movement gained critical mass.
Her film, in which she plays one of the main characters, follows the gruesome death of a young woman suspected to be the doing of male relatives.
"As Iraqis in general, we have unstable lives, but the targeted killing of women in particular... cannot be trivialised," she said.
In terms of the number of female directors, Arab cinema appears to be faring better than Hollywood, where out of the 250 biggest films released last year, only 18% were directed by women.
In contrast, a 2019 study by Northwestern University in Doha found that about 50% of all filmmakers in the Arab world were women.