Each week, Iraqi writers, artists and poets converge on the banks of the Euphrates in the Anbar province city of Fallujah to take part in an event they have dubbed "Culture Street".
The weekly gathering of artists and intellectuals in the western part of the city is part of a grassroots push to restore the city's artistic and literary scene following the ouster of the "Islamic State of Iraq and Syria" (ISIS).
Artists have been making the most of the opportunity to display their work and engage in cultural activities with residents of Fallujah and other parts of Iraq.
Fallujah's artistic and literary community has been instrumental in establishing the new Culture Street, said project supervisor Abdul Salam Hussain al-Mohammadi, who is a poet himself.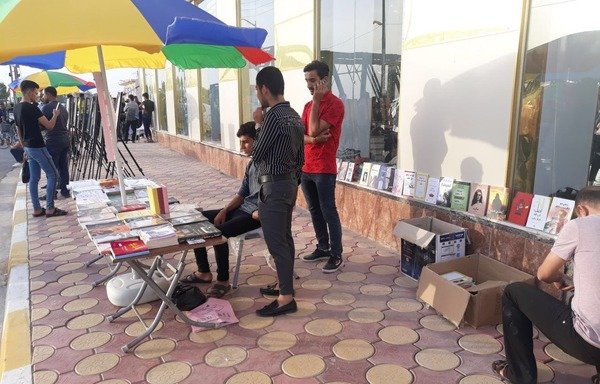 The project draws its inspiration from Baghdad's fabled al-Mutanabbi street -- a historic district filled with bookstores and cafés that has long been a haven for writers and intellectuals.
It is a repudiation of extremist thought, he told Diyaruna, noting that Fallujah "is a city of culture and science, while ISIS is against science, poetry and theatre".
The group banned all cultural manifestations while it was in control, he said.
It also burned books and torched historic libraries in areas such as Mosul.
Beyond Fallujah, the Culture Street project was replicated in other districts of Anbar, al-Mohammadi said, with events being held every Friday until 1 a.m.
In addition to book stalls and poetry recitations, activities have included a charity bazaar, with proceeds going to the families of those killed by ISIS.
In defiance of ISIS
The weekly Culture Street festival is "a significant accomplishment in defiance of ISIS", Anbar provincial council member Amira Uday told Diyaruna.
The festival's venue, which now serves as a cultural, literary and humanitarian platform, was once an area where ISIS elements killed and tortured civilians and dumped their bodies into the Euphrates, she said.
Anbar's local authority has been helping to manage the project and has been supporting its activities, Uday said, noting that women also have been taking part in the cultural events as poets, painters and photographers.
"Painting and sculpting exhibitions as well as free platforms, handicrafts, charity stalls, spaces for charity work, arts and literary competitions can all be found at the Culture Street in Fallujah," she said.
"We have provided all the necessary facilitations and security licenses for the Culture Street," Fallujah mayor Issa al-Sayer told Diyaruna.
The "street" extends from the Fallujah steel bridge to the New Bridge, along the banks of the Euphrates River in the western part of city.
"We have seen high turnout from the local population in Fallujah to attend the events of the Culture Street," he said, noting that theatre productions and poetry recitations are particularly popular.
There has been strong participation from students as well, he added.
'A message of peace'
Delegations from other Iraqi provinces are expected to take part in the "street's" cultural events, he said, which are inclusive of Iraq's minority groups.
The project has been "successful in sending a message of peace and fraternity among the people of Iraq through the use of intellect, literature and knowledge", he added.
"Culture Street is a live and successful project, and follows the model of al-Mutanabbi Street, with the goal of spreading culture," said journalist Nabil Azami.
The street's "outstanding theatrical and comedic performances" contribute to the restoration of a positive atmosphere in the city, he told Diyaruna.
Fallujah residents are not the only ones who will benefit from it, he said, noting that "many artists, writers and novelists as well as intellectuals from districts of Anbar such as Ramadi, Heet and Haditha will attend".
"Culture Street has become a stage and space for exchanging literary and poetic ideas, knowledge and expertise," said Jinan al-Ani, director of the Women's Centre in Fallujah.
"Women have had a strong presence in the Culture Street activities," she said, noting that in addition to a handicrafts exhibition and charity bazaar, female artists have shared their artwork and poetry.