On the same roadside in Mosul where the "Islamic State of Iraq and Syria" (ISIS) once held public executions, a weekly market selling books and offering cultural activities such as poetry readings and music has sprung up.
The cultural initiative is a sign of how far things have come since Iraqi forces succeeded in liberating both sides of the city on June 10th, after an eight-month battle that put an end to three years of ISIS rule, organisers said.
Each Friday, vendors and artists throng the street next to the University of Mosul in the eastern part of the city, drawing a diverse crowd.
The decision to begin holding a weekly roadside cultural exhibition and market in Mosul came in response to strong public demand, said Ibrahim Abdullah al-Taie, media manager of the initiative's organising committee.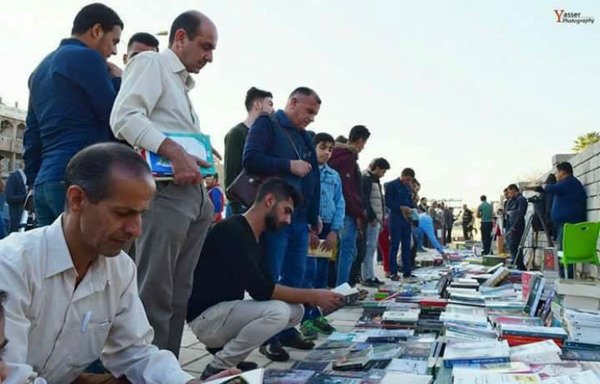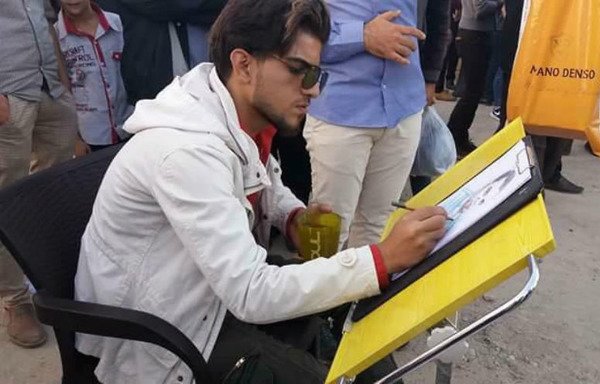 After al-Najafi street in western Mosul -- which had been the main area where books were sold in the city -- was destroyed by fire, people needed a new place to buy books and take part in cultural activities, he told Diyaruna.
A group of authors, bookshop owners and intellectuals decided to use the location near the University of Mosul as a platform for hosting cultural events.
"In this same location, executions and beheadings took place during ISIS rule," he said, noting that the area also had served as the headquarters of the group's propaganda machine.
A cultural renaissance
The roadside exhibition opened November 17th after two months of preparations that included street cleaning and obtaining approvals from the regional authority, al-Taie said, and has continued to open each Friday.
The opening day was well attended by youth, intellectuals and others, and featured more than 4,000 titles, from novels to literature, satirical, politics and religious texts that promote an enlightened and moderate Islam, he said.
"None of the books on offer promoted religious extremism, as this could create a breeding ground for ISIS ideology," he stressed, noting that "Mosul will remain a city of tolerance and co-existence due to its diverse population."
In addition to book sales, there have been open air poetry recitals by several native poets, as well as musical performances from a local band featuring the violin, qanun, lute and piano.
"People were prevented from even mentioning music when ISIS was in control," he said. "The group used the street as a media platform for its own agenda, which banned progressive thought, culture and all forms of music."
The roadside initiative will continue to improve and expand, al-Taie said, as it is the only such outlet in the city at present.
There is a plan to rebuild al-Najafi street in western Mosul so that books can be sold there once again, he said.
Al-Taie called on Ninawa's local government to support the project so it can continue to thrive, asking as an initial measure that it designate the street as a cultural platform and inform other government bodies of this decision.
The provincial authority should provide an awning to protect the vendors from the elements, he suggested, as weather conditions could force the exhibition to close down on rainy Fridays.
Mosul's cultural heritage
Supporting the initiative is important, as it is a way to fight back against extremist ideology, al-Taie said, noting that "bullets are not the only way to fight ISIS".
"They should be fought with the right ideology and culture," he said.
"It is not unusual that the street ISIS intended to be a symbol of tyranny and death has been transformed into a street of culture and innovation," Ninawa provincial council member Hussam al-Sabaawi told Diyaruna.
Mosul is a city known for its intellectuals, authors, doctors, politicians and leaders, he said.
Al-Sabaawi called for books on display to be monitored so that those that incite an extremist and takfiri ideology do not make their way into buyers' hands.
Civil society organisations in the province must continue with their cultural project without waiting for help from the local authority for the time being, he said, as the authority is busy maintaining security and restoring services.
Meanwhile, Ninawa provincial council member Hiyam Abdul told Diyaruna, the local authority is committed to supporting the cultural institutions in the province, including rebuilding state cultural institutions.
To this end, several cultural activities have been sponsored by the state and private sectors in Mosul, she said.