An idea to express solidarity with the people of Mosul during Eid al-Fitr, conceived in a Baghdad cafe, has been transformed into a civil society initiative that has brought 300 artists and intellectuals from across Iraq to the city.
"The idea started quite spontaneously as I decided to visit my friends in Mosul," journalist Hamed al-Sayed told Diyaruna.
Two friends expressed their interest in coming with him, including film director Mohammed al-Darraji, who suggested he could screen one of his films in Mosul.
"That is when a spark of an idea started, and we thought to make it a national initiative and a large-scale campaign to bring Eid back to Mosul," al-Sayed said.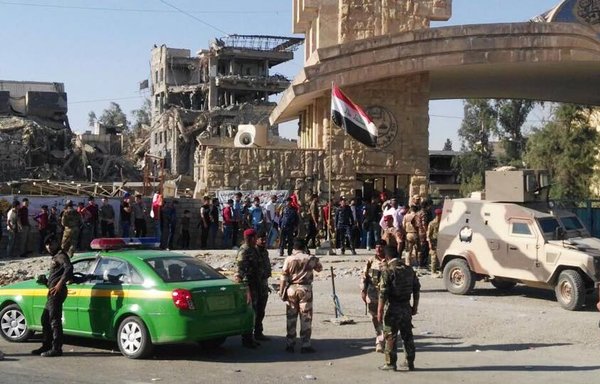 He and his friends launched the "Eid in Mosul" initiative on social media, and within half an hour it went viral, with more than 1,600 people asking to join their journey to Mosul in just two days.
Due to logistical issues, al-Sayed said, they decided to take just 300 people -- artists, journalists and intellectuals from all segments of society.
The group set out from Baghdad on Tuesday (June 27th) for Mosul to put on an entertainment programme in the city designed to reinforce national unity.
Government support
As the initiative had generated so much interest, al-Sayed asked the Iraqi government to provide transportation and security for the convoy.
The Ministry of Transportation agreed to provide 14 buses, he said, and at 6 a.m. Tuesday, the volunteers left Baghdad for Mosul.
"The initiative is first and foremost a show of support for Mosul that shows the world we are with the city," al-Sayed said.
The entertainment programme included a two-hour film screening -- the first of its kind in Mosul since 2003 -- along with poetry recitals, folk song performances by several local artists and other cultural activities, he said.
Many Mosul residents had hidden their musical instruments out of fear of the "Islamic State of Iraq and Syria" (ISIS), al-Sayed said, and are now taking them out again and joining the festivities in Mosul.
A message to Mosul
The convoy's first scheduled stop was at the University of Mosul, where the "I am Iraqi, I read" campaign, which is part of the convoy, presented 20 books to the university library, film director al-Darraji said.
The convoy was then scheduled to visit the shrine of Prophet Yunus, followed by a church visit, before the celebrations began on stage in east Mosul, he said.
Several films from the Iraq Independent Centre were screened, he said, one of which he directed, which tackle the issues of violent extremism and call for peace and amity.
"The largest Iraqi flag was hoisted on stage during the celebrations so that it would wave atop the city once again," he said.
"With its trip to Mosul, the convoy intends to send the message that the city is an integral part of Iraq, and that it is a city of culture and civilisation and will continue to host art and cultural events," al-Darraji said.