Iraq has been working to bring the decline in its water inflows from Iran -- a consequence of the Islamic Republic's blocking or diverting the course of rivers that originate in its territory -- to international attention.
Iraq, which has been severely affected by the regional drought, depends primarily on water releases from Turkey to the Tigris and Euphrates rivers, which constitute 56% of its total water resources.
A further 12% comes from rivers and tributaries that flow into the country from Iran, while the rest comes from internal sources such as lakes and wells.
Minister of Water Resources Mahdi Rashid al-Hamdani said Iraq intends to "internationalise" the decline in its share of water from Iran as a result of "dredging and changing the course of the rivers" that flow into Iraq.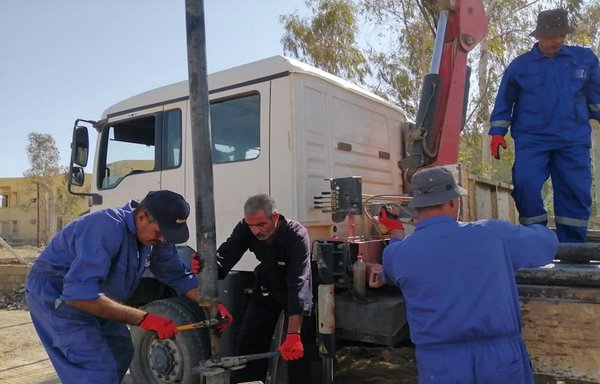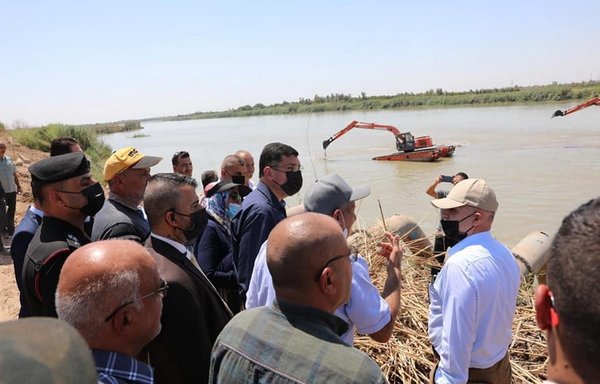 In a state television interview that aired September 21, he said ministry legal and technical experts had prepared a memorandum on the issue that has been submitted to the Iraqi president, government and Foreign Ministry.
This is intended to finalise the procedures for bringing the case to the International Court of Justice and the United Nations Office of the High Commissioner for Human Rights, he said.
Iraq wants a reconsideration of the 1975 Algiers Agreement signed with Iran, which government officials said includes "unfair" clauses related to the regulation of water supplies between the two countries.
But the Iranians are insisting on keeping the agreement as it stands.
Despite its move to appeal for international arbitration, however, Baghdad does not want to close the door on dialogue with Iran.
Shared responsibility
Ministry of Water Resources spokesman Ali Radhi Thamer told Al-Mashareq that months ago, Iraq asked its neighbour to enter into bilateral negotiations.
A decision was made to send a delegation from the water ministry to Iran, but this visit was subsequently postponed until after the Iranian elections.
On September 12, "Prime Minister Mustafa Kadhemi paid a visit to Iran, accompanied by a large ministerial delegation that included the Minister of Water Resources, and meetings were held to discuss the water issue", Thamer said.
"The discussions focused on ... shared rivers, and Iraq's share of water," and the shared responsibility to co-operate during times of water scarcity, he said.
"We hope that the Iranians will exchange visits and activate the work of the bilateral technical committees in the coming period in order to arrive at satisfactory solutions," he said.
Thamer noted that climate change has ravaged the region, which is experiencing a severe drought that has affected Iraq more than many.
He said the ministry is trying to offset the water shortfall by using reserves accumulated in the rainy years, among other measures to alleviate the crisis.
These include "drilling more than 150 new wells, rehabilitating dozens of wells, installing pumping stations to deliver water to affected residential areas, and cleaning and upgrading irrigation channels to reduce water usage violations".
Diversion of rivers
Iran has been building dams and tunnels under rivers to change their course for years, Thamer said, as is the case where the Sirwan River (Diyala River in Iraq), a tributary of the Tigris, feeds into the Darbandikhan reservoir.
The river's flow rate has dropped from 47 cubic metres per second to just seven.
Additionally, some of the waters of the Lower Zab, which feeds into the Dokan dam reservoir in Iraq's Suleimaniyah province, have been diverted to supply water to Lake Urmia, in Iran.
Iran also has constructed new dams in recent years that have changed the course of the Karun, which flows into the Shatt al-Arab, diverting its waters.
Dozens of smaller rivers and tributaries have been blocked or diverted, reducing the flow drastically or causing them to dry up completely, Thamer said, pointing to the Alwand River in the border town of Khanaqin as one example.
The water crisis has devastated rural villages near those rivers, whose residents rely on farming and fishing for their livelihood, ruining agricultural lands and triggering waves of migration out of these areas.
According to Iraqi officials, more than 40,000 acres of orchards have been lost in Diyala province, which borders Iran and is the hardest hit.
Water Resources Minister al-Hamdani described Iran's actions as "a violation of international law, because it involves diverting the course of a natural river on whose banks communities, cities and villages were established".
Need for fair solution
More than 40 rivers emanate from Iran, most of which have been blocked or diverted in some manner, water and agricultural affairs consultant Adel al-Mukhtar told Al-Mashareq.
"What we hope is that matters do not escalate into tension and complications, and that serious technical negotiations will be held" between Iraq and Iran to address the water shortages, he said.
These must be based on the principle that both sides must bear some of the burden amid the current shortages, he said, so that one side does not suffer more than the other.
"We had succeeded in doing that with Turkey, and were able to secure our share of water," he said.
Turkey in March agreed to release a fair share of Tigris and Euphrates waters to Iraq, the Middle East Monitor reported, after meeting more than five times to discuss water with Iraqi officials.
Al-Mukhtar noted that all the countries of the region are suffering from drought due to last winter's unprecedented drop in precipitation.
This urgent issue necessitates that Iraq and neighbouring countries "review and optimise all internal water, agricultural and water management policies, and make joint efforts to overcome the challenge of water scarcity", he said.