Iraqi farmer Khalil al-Lahibi of Ninawa province has nearly finished harvesting this year's wheat crop. But following the severe drought, he anticipates his profit will be less than half of what it was last year.
Last winter, Iraqi farmers faced irrigation obstacles due to the drought.
"This season, we relied heavily on groundwater and sprinkler tools to irrigate very limited areas of land," al-Lahibi said. "The shortage of water exacerbated our many problems [...]. The losses make our efforts futile."
The drought is not the only challenge Iraqi farmers face today, as the agricultural sector also is coming under pressure from Iran-backed militias.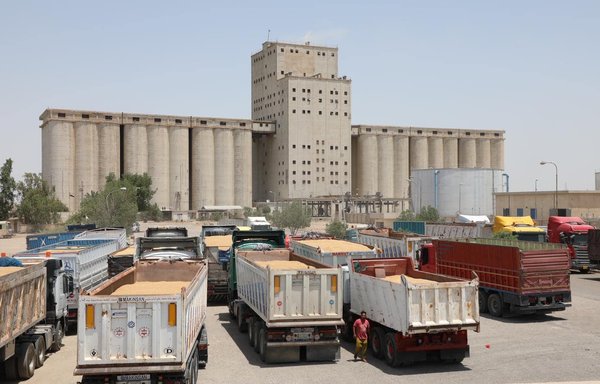 Farmers say that militias affiliated with the Islamic Revolutionary Guard Corps (IRGC) have been flooding local markets with imported crops, causing a decline in the price of local produce.
"The militias' actions are no less detrimental than the severe drought that currently threatens agricultural production," said Muzahim al-Huweit, spokesman for the Arab tribes in Ninawa province.
"Amid this crisis, Iran's [armed] groups are continuing to overburden the agricultural sector with corrupt activities, and are compounding the suffering of farmers," he said.
Al-Huweit said militias flood the market with crops imported or smuggled from Iran, which they sometimes mislabel and falsely market as local products.
"The agricultural economy in Ninawa province, which is described as Iraq's food basket, suffers from the interference of powerful armed groups such as Kataib Hizbullah, Sayed al-Shuhada, Asaib Ahl al-Haq and Kataib al-Imam Ali," he said.
According to al-Huweit, IRGC-backed militiamen intimidate farmers, impose tributes and control and influence the country's agricultural sector for their benefit.
Putting a stop to crop fires
In mid-May, a number of media outlets reported that IRGC-affiliated militias plan to take control of state-owned wheat and barley warehouses in Mosul.
Asaib Ahl al-Haq and Kataib Sayed al-Shuhada elements have been pressuring farmers to sell barley stockpiles to them at profitable prices, according to a report in Al-Arabi al-Jadid.
Soon afterwards, the price of barley in the market doubled from 208,000 IQD ($142) to 400,000 IQD ($274) per tonne, the pan-Arab outlet reported.
Meanwhile, some farmers are reportedly concerned about recurring incidents of fire in agricultural fields during harvest season, blaming IRGC-backed militias of setting them in order to keep Iraq dependent on imports.
Ninawa Agricultural Department director Duraid Hikmat Tobia told Al-Mashareq his office has developed a joint plan with civil defence teams to contain potential field fires.
"The number of fires is decreasing," he said. "Two years ago, there were 327 fires in the province, and last year 127 fires [...]. We hope there won't be such incidents during this harvest season."
"The drought has greatly harmed Ninawa's grain production, especially wheat, with production decreasing from one million tonnes last season to about 395,000 tonnes in the current season," Tobia said.
The amount of barley produced this year was only 11,000 tonnes, which is such a meagre amount that is not even marketable, he said.
Government grain silos are now purchasing wheat from farmers, Tobia said.
"We have delivered marketing permits to 10,000 registered farmers as part of the current agricultural plan in Ninawa, which is proceeding smoothly," he added.