Iran has been blocking the flow of water from rivers into Iraq, disrupting the economy and souring relations between the two countries.
Iran at the end of November cut off completely the flow of water from its territory into the Diyala river in eastern Iraq, resulting in a steep drop in the water level at Lake Hamreen.
Prior to that, the Kurdish regional government said in October that the water supply that used to flow from Iran into the Sirwan river was entirely cut off after the Iranian government diverted the course of the river.
Iran has also diverted the courses of the tributaries feeding giant dams, such as the Dukan dam, and the Tigris river, causing water levels to drop.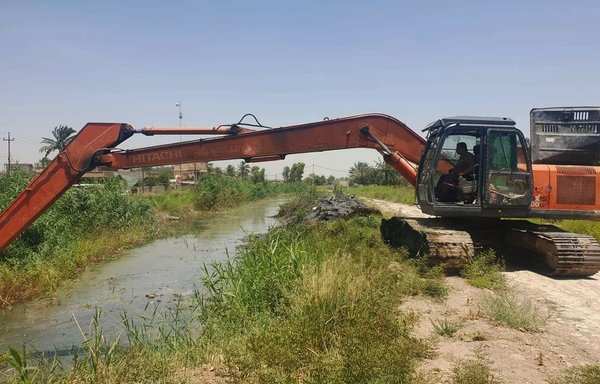 The disruption of water inflows has had an adverse effect on vital agricultural areas in Diyala province and Badrah, Jassan and Hor al-Hurriya, as well as Shatt al-Arab river, according to Iraqi officials.
This could lead to the forced migration of residents out of Iraq's southern areas, especially from the drought-threatened Ahwar region, they said.
Mahdi al-Hamdani, Iraqi Minister of Water Resources, said at a press conference November 29 that the government attached great importance to foreign policies related to the issue of rivers and water quotas.
Al-Hamdani expressed his regret that Iran is pursuing water policies that are harmful to Iraq without complying with international norms and conventions.
12 rivers blocked
Ghazi Faisal Hussein, director of the Iraqi Centre for Strategic Studies, told Al-Mashareq that Iran has so far blocked more than 12 major rivers that flow into the Tigris.
This has deprived a large number of farmers of irrigation water and consequently turned their fields into barren lands.
"What Iran is doing is a serious violation of the principles of good neighbourly relations and partnership stipulated in international charters as well as agreements on the rights of riparian countries," Hussein said.
This behaviour is "a form of war and does not reflect a positive position that takes into account the historical relations, mutual interests and common religious values between the two countries", he said.
He said Iraq "does not want to be drawn into escalation, so it resorted to means of diplomatic pressure pursuant to Chapter IV of the United Nations Charter, which relates to the necessity of resolving international disputes by peaceful means".
Hussein called on the international community to put pressure on Iran to stop its violations of Iraqis' rights.
Threat to Iraq
Desertification has now claimed 39% of Iraq's land, and 54% of agricultural areas are threatened by salinity, according to a report by the Planetary Security Initiative in May.
A fall of 20% in Iraq's water supply and the related declining crop yields that could accompany climate change, could reduce real GDP in Iraq by up to 4%, or $6.6 billion, the World Bank noted in November.
Tehran's efforts to control water resources are "part of the hegemonic policy pursued by Iran and its plan to destroy Iraq and harm its economy and the interests of Iraqis", political analyst Adel al-Ashram said.
He highlighted the importance of water wealth for Iraq, which depends on flows from neighbouring countries for 90% of its water to irrigate its lands and agricultural projects and to operate power stations.
"The Iraqi street is very resentful of Iran's behaviour and sees the actions of its eastern neighbour as a threat to its national security and its international rights to a fair share of water," al-Ashram said.
He said the issue of Iran's blockage of the water flow is no less dangerous than its sponsorship and support of militias that are trying to undermine the country's stability.