Iran's construction of dams that divert water from rivers that flow into Iraq has led to critical shortages downstream which are damaging farmland and depriving Iraqis of critical water resources, experts told Diyaruna.
Iraq has lost swathes of farmland in recent years as a result of the upstream diversion of river water, they said, with the situation worsening last summer, when the amount was no longer sufficient to meet its drinking water needs.
The Kolsa dam in Iran's Sardasht region has precipitated an 80% drop in the water level of the lower Zab river, which merges with the Tigris, leading to a drinking water crisis in Sulaimaniya's Qalaat Daza district.
"The water levels of 42 rivers and tributaries that originate in Iran and flow into Iraqi territory have dropped or disappeared entirely," agricultural expert Adel Mukhtar told Diyaruna.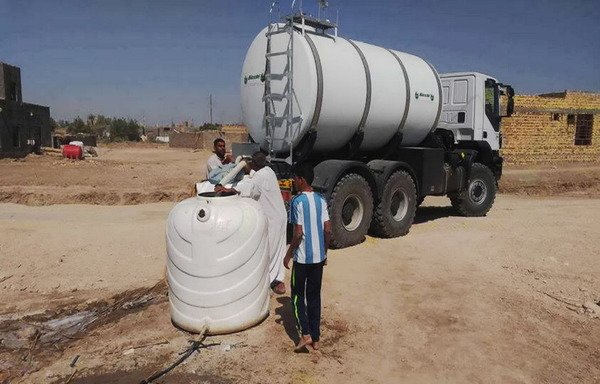 Among them are rivers that are main feeders of the Tigris and Shatt al-Arab rivers, including the Karun and the upper and lower Zab, he said.
Last year saw a significant drop in the amount of water that flowed into Iraq from Iran, with consequent "waves of thirst, destruction of crops and an unprecedented increase in salinity", he added.
The salinity of Shatt al-Arab in Basra surged from the normal level of 1,000 parts per million (ppm) to 25,000 ppm, according to the Iraqi Ministry of Water.
This increase in salinity stems from Iran's discharge of highly concentrated brackish water that caused the death of millions of fish and serious environmental degradation, according to the ministry.
"This year, the abundant snow and rainfall have significantly mitigated the drought problem," Mukhtar said, adding that it is likely the strategic water reserves will rise by the end of May to about 37 billion cubic metres.
"The current water situation is good, with a reserve of about 26 billion cubic metres," he said, noting that the issue could resurface, however, if rainfall levels are low next winter.
Reduced water inflow
Iran has built dozens of dams on rivers that flow into Iraq over the years, diverting an estimated seven billion cubic metres of water to irrigate around 770,000 hectares of cultivated land in Ahvaz and Ilam.
The Iranian dams are small, "but they are numerous and collectively function as one big dam", Iraq's former Minister of Water Resources Hassan al-Janabi said last October.
He pointed to the completion of work on about 10 dams, saying that they have contributed to "a significant decline in our water inflow [from Iran] that reaches the Darbandikhan dam [Iraq]".
Around the same time, Iran's Water Resources Management Company announced its intention to construct 109 new dams under a plan that extends through the year 2021.
Among the companies overseeing the construction is the Khatam al-Anbiya Group, the economic arm of Iran's Islamic Revolutionary Guard Corps (IRGC).
The other two companies listed, al-Quds al-Radwi and Mostazafan, are under the authority of Iranian leader Ali Khamenei.
Water remains a thorny issue
"Water was a thorny issue between Iraq and Iran before and during the war between the two countries," military and strategy expert Muayyed Salem al-Juhaishi told Diyaruna.
Today it remains "a serious threat", he added, as the Iranian regime seeks to maximise Iran's use of water resources and is "moving to deprive Iraq of its rights to the water of the rivers that originate in Iran".
In response to international sanctions, Iran also wants to "ramp up the pressure on Iraq by pursuing a water blockade strategy to force it to get involved alongside it in challenging the international community", he said.
"The Iranians should not be allowed to drag us into their problems and international isolation or be given an opportunity to influence our policies and tie our fate to theirs," al-Juhaishi said.
"We have to break away from their patronage," he said.
"This is what we are being encouraged to do by other countries and Iran is trying to resist it and marginalise the international will," he added.
"Iran forcibly imposed itself on all the affairs of Iraq and is working to deprive it of its rights, sap its economy and steal its wealth," political analyst Hilal al-Obeidi told Diyaruna.
Iraq must have help to withstand the pressure it is under from Iran with regard to water, energy and trade issues, he said.