Tahrir al-Sham chief Abu Mohammad al-Jolani has built his name over the past two decades by pledging allegiance to al-Qaeda and working with the "Islamic State of Iraq and Syria" (ISIS).
Now, with a $10 million bounty on his head, al-Jolani says those alliances were merely strategic and that to label him a "terrorist" is "an unfair characterisation".
"It's a political label that carries no truth or credibility," he said in a FRONTLINE documentary aired June 1.
But to many who have witnessed firsthand al-Jolani's brutality, his claims of being a changed man are hard to believe.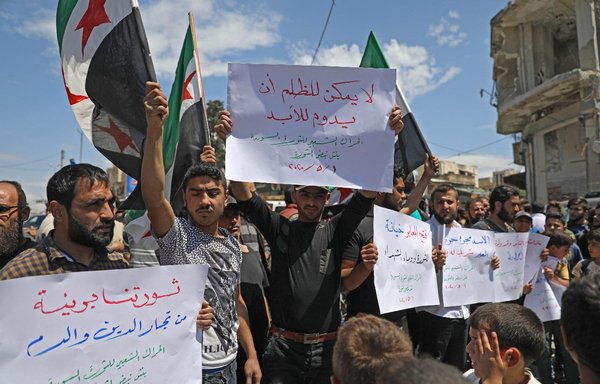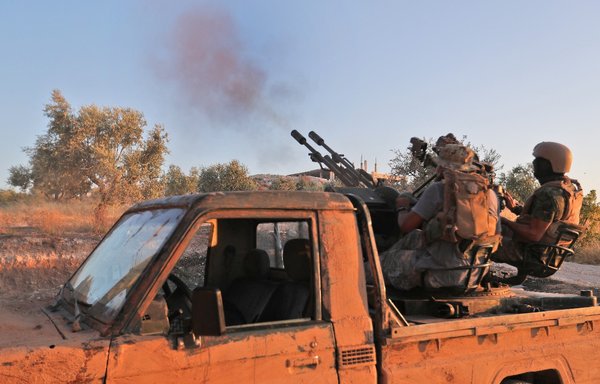 The path to extremism
Al-Jolani, born Ahmed Hussein al-Sharaa in 1982, grew up in Damascus. He was around 21 when he joined forces with Jordanian national Abu Musab al-Zarqawi, who headed the group then known as al-Qaeda in Iraq (AQI).
Under al-Zarqawi, AQI claimed responsibility for scores of violent acts, including deadly car bombings, suicide attacks, sniper attacks, roadside improvised explosive devices (IEDs), hostage taking, executions and beheadings.
Around 2004, there were near daily car bombings in Iraq, causing untold civilian deaths. The death toll was so concerning to al-Qaeda leadership at the time, that they sent a letter to al-Zarqawi urging him to stop killing innocent people.
Al-Zarqawi rejected the advice.
In the documentary, al-Jolani insists he was against such tactics -- but nonetheless, he remained dedicated to the group.
Al-Jolani was arrested in Mosul in 2005 and spent most of the next five years in the US-run Camp Bucca prison in Iraq.
Upon his release, al-Jolani moved up the ranks of al-Qaeda, serving as a cell commander in Mosul until the Arab Spring swept into Syria and he floated his plan to return to his homeland to Abu Bakr al-Baghdadi.
With the blessing and cash of the head of the group then known as the Islamic State of Iraq (ISI), al-Jolani returned to Syria.
"Al-Baghdadi gave me $50,000 or $60,000 a month for six to seven months," al-Jolani told FRONTLINE. "First, I asked for 100 men to come with me. But many leaders did not like the idea of me heading to Syria. So only six people came."
'It's all about the money'
Careful to hide his extremist affiliation, al-Jolani spent several months recruiting for and forming al-Nusra Front (ANF) with the stated purpose of fighting against the regime of Syrian president Bashar al-Assad.
Within one year, he had 5,000 men fighting for him.
"He had learned the lessons of AQI, ISI, and he was not going to emulate them in Syria," said Rania Abouzeid, a Lebanese-Australian journalist who has covered the war in Syria. "He worked to ingratiate himself in the local communities."
Despite al-Jolani's stated aversion to ISI's tactics, ANF started its attacks against the Syrian regime by deploying young suicide bombers.
To fund its operations, ANF looted factories, took money from sympathisers and kidnapped civilians, raking in tens of millions of dollars from ransom payments.
Soon the group started sending money to al-Baghdadi, while ISI continued indiscriminate killing of civilians in Iraq.
But as ANF gained notoriety, a power struggle emerged between al-Baghdadi and al-Jolani -- and al-Jolani's struggle for survival began.
Without al-Jolani's prior knowledge, al-Baghdadi subsumed ANF, announcing its "merger" with ISI to create the "Islamic State of Iraq and Syria" (ISIS).
"It's all about money," explained US freelance journalist Theo Padnos, who spent 22 months as a hostage in one of ANF's prisons in Aleppo.
"When the ISIS guys would argue with the ANF men, they'd go, 'It's all about money. It's all about money. ANF is taking all the cash, and we want -- we, ISIS, want more of that cash.'"
Put out by the bitter rivalry with al-Baghdadi, al-Jolani switched his allegiance to bin Laden's successor Ayman al-Zawahiri.
Attempts to 'save face'
In 2016, al-Jolani publicly severed ties with al-Qaeda.
But many regard al-Jolani's split from al-Qaeda as a strategic move, rather than a true ideological difference.
"Al-Qaeda is not exactly a popular brand name, especially if you're trying to run a province," said Abouzeid, the Lebanese-Australian journalist.
"This split from al-Qaeda would save face," she said. "It would enable him to establish relations with other political groups and political parties, foreign players... So there are all sorts of practical reasons for a split from al-Qaeda."
In 2017, al-Jolani became a founding member of the extremist coalition Tahrir al-Sham, attempting to further distance himself from al-Qaeda and ISIS.
Through brute force and its political front, the so-called salvation government, Tahrir al-Sham gained control of much of the northern Syrian province of Idlib.
It has assassinated the leaders of groups that opposed it, cracked down on local activists, imposed fees and fines on merchants as part of an effort to generate revenue for itself, and imposed its hardline views on the local population.
"Al-Jolani controls most aspects of life. Anyone who speaks a word he doesn't like is arrested," said Mohamed al-Salloum, whose brother Samer was detained after he had complained about Tahrir al-Sham's corruption on social media.
ANF elements took his brother from their family home, he said, and executed him in 2019, after he had spent a year in one of their prisons.
Al-Jolani 'can't be trusted'
In recent media appearances, al-Jolani has adopted a more Western style of dress.
"This appearance is clearly an attempt to present himself as a moderate person who has nothing do with terrorism," said Mazen Zaki, director of new media at the Ibn al-Waleed Studies and Field Research Centre in Egypt.
But al-Jolani "is a fickle person and his ideological affiliation is known, and therefore, he can't be trusted at all", Zaki added.
"Al-Jolani and the ideology he represents are part and parcel of al-Qaeda," said Egyptian military expert Wael Abdul-Muttalib, a researcher and specialist on terrorist groups at the Regional Centre for Strategic Studies in Cairo.
"The fact that he is heading a terrorist group makes it impossible [for him] to be trusted, and therefore what he is doing is just an attempt to jump off a sinking ship," Abdul-Muttalib said.
"Over the years, al-Jolani and his project have only brought devastation, destruction and horrors to Syrians and civilians in the Middle East," he said. "Therefore he has to be uprooted once and for all for the desired peace to be established."
[Waleed Abu al-Khair contributed to this report from Cairo.]