While a host of countries in the Middle East are moving on from persistent conflicts and turning the page on decades-old violence and strife, the Iranian regime is isolating itself by its obstinate support of proxy groups and terrorism.
Major diplomatic breakthroughs have occurred in the Middle East in the past year, including the US-backed peace agreements between Israel and a number of Arab countries, known as the Abraham Accords, and the rapprochement between Saudi Arabia and Qatar.
The UAE and Bahrain signed the Abraham Accords with Israel on September 15, followed by Sudan on October 23 and Morocco on December 10.
Although other Arab countries have not signed the accords, various accounts suggest new participants, including Saudi Arabia, will do so soon.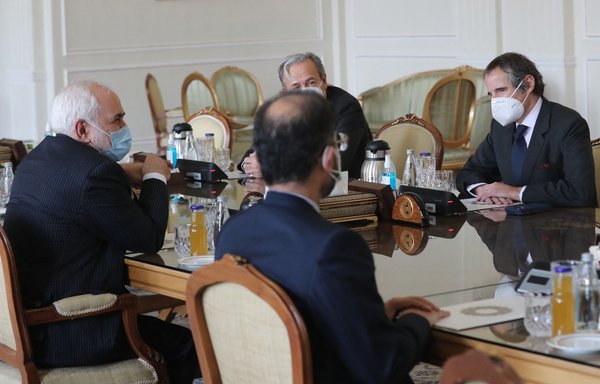 In a demonstration of the profundity of change in the Middle East, last December observers witnessed a once-inconceivable scene: Israelis celebrating Hanukkah in the heart of the Gulf.
In another big move in early January, Qatar inked a reconciliation treaty with neighbouring Gulf states, bringing about a series of welcome changes, particularly the reopening of airspace and of land and sea borders between Qatar and the other Gulf states and Egypt.
Both breakthroughs have stranded Iran on the "other side" of Middle East politics.
The pacts reflect a changing dynamic in the region, where countries now recognise the need to co-operate against Iranian influence.
Iran has denounced the treaties, which it sees as a direct threat to its Islamic Revolutionary Guard Corps (IRGC)'s expansionism.
Continued encouragement of regional instability
As regional countries work on long-standing problems, the IRGC ceaselessly exports terror and arms proxy militias, including in Iraq, Syria, Lebanon, Yemen and Afghanistan.
Kataib Hizbullah is one of the leading IRGC-backed militias, active in Iraq and Syria. It assumed its present form in April 2007, when five armed factions active since 2003 joined forces. Several Iranian and Lebanese commanders have trained Kataib Hizbullah.
The militia is suspected of rocket attacks on Western military and diplomatic facilities in Iraq since late 2019, including three attacks last month.
In response, US President Joe Biden on February 25 authorised strikes against Iran-backed militias in Syria, killing at least one member and wounding two, in what the US administration called an unambiguous message that the United States will protect American and coalition personnel while striving to de-escalate conflict in Syria and Iraq.
On Wednesday (March 3), at least 10 Iranian-made rockets slammed into Ain al-Asad base in western Iraq, which hosts international coalition troops, leaving one civilian contractor dead.
IRGC-backed militias in Syria -- including Kataib Hizbullah, the Fatemiyoun Division, the Zainabiyoun Brigade and Lebanese Hizbullah -- prop up President Bashar al-Assad in service of the Iranian expansionist agenda.
However, in doing so, Iran has been complicit in the regime's slaughter of Syrian civilians, observers say.
In Yemen, with its support of the Houthis (Ansarallah), the IRGC further disrupts regional stability by smuggling weapons and arming and training Houthi elements.
Iran complements its support on the ground for militias with a "cyber army" that posts disinformation and invective against foes of Tehran's influence in the region.
Additionally, Iran for years has been supporting the Taliban in Afghanistan, which continues to carry out attacks on civilians and Afghan forces on a near daily basis even though the group signed a peace agreement last year.
The IRGC also regularly threatens to disrupt maritime traffic in the Strait of Hormuz, where a fifth of the world's oil passes.
Nuclear violations
Domestically, Iran keeps stoking its nuclear ambitions.
European powers and the United States have expressed concerns over Iran's recent production of both 20% enriched uranium and uranium metal, which is considered a key step in developing a nuclear weapon.
In recent weeks, Biden's administration, European powers and Iran have striven to revive the 2015 nuclear deal, known as the Joint Comprehensive Plan of Action (JCPOA).
Based on a new "temporary" agreement with the International Atomic Energy Agency (IAEA), the Atomic Energy Organisation of Iran February 21 said that Iran would hold onto recordings from monitoring equipment installed at sites by the IAEA for the next three months.
But it will not release the information unless the international community lifts the sanctions within that time frame, it added, and if sanctions remain, it will erase it.
US, allies prepared to act
The United States has vowed to continue working with allies in the region to preserve regional stability and to deter threats from state and non-state actors, including the IRGC.
US and partner nation forces in the Gulf present a unified front, military officials said.
Recent drills include the joint US-UAE "Iron Union 14" training of the two countries' land forces, and the trilateral maritime exercise, "Nautical Defender 21", in the Arabian Gulf among the US, UK and Saudi navies.
In January, US B-52 bombers conducted multiple flyovers in the Middle East during military manoeuvres.
The flyovers are intended "to demonstrate the US military's ability to deploy airpower anywhere in the world to deter potential aggression and showcase the US commitment to regional security", US Central Command (CENTCOM) said in a January 27 statement.
"No one should underestimate our ability to defend our forces or to act decisively in response to any attack," CENTCOM Commander Gen. Kenneth McKenzie said December 30.
The United States has periodically seized Iranian oil shipments to counter Tehran's funding of proxy and terrorist groups.