Iraqi security authorities on November 24th took precautionary measures to secure the international trade and travel route leading to the borders with Jordan and Syria.
Al-Rutba mayor Imad al-Dulaimi told Diyaruna the measures were taken in light of the rise in terrorist operations by elements of the "Islamic State of Iraq and Syria" (ISIS), the most recent of which occurred a day earlier in al-Rutba district, western Anbar province.
The Monday attack near the area of al-Sakkar killed at least one Iraqi security officer whose vehicle was intercepted and torched, he said.
Al-Dulaimi said another terrorist attempt was thwarted soon after the incident.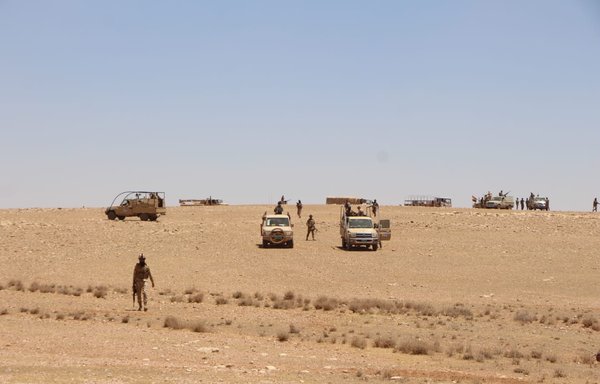 ISIS elements have recently increased their presence on the international highway and nearby desert villages and towns. As a security measure, starting on the 24th, the highway will be closed to passenger traffic from 4 p.m. to 6 a.m., he said.
According to the mayor, in an effort to increase security on the highway, Anbar governor Ali Farhan has reached an agreement with the Joint Military Operations Command to transfer army units from the city of Ramadi to al-Rutba.
A number of checkpoints have also been added on the 500-kilometre highway, which is considered a vital commercial road, al-Dulaimi told Diyaruna.
Surrounded by the desert, the international highway originates in the west, at Trebil border crossing with Jordan and al-Walid crossing with Syria. It runs through Ramadi in the centre of Anbar province and ends in Baghdad.
Al-Dulaimi said the length of the highway and its proximity to the desert gives terrorists opportunities to move around swiftly, conveying to the public that they have grown more powerful.
The mayor called for more cameras and increased monitoring technology to enhance highway security against potential ISIS attacks.