Iraqi security forces have set in place further measures to secure the international road in Anbar, a local official said Tuesday (January 21st).
"Security forces have enhanced measures on the international road that runs from the Trebil crossing on the Iraq-Jordan border to the capital, Baghdad, through Anbar province," said al-Rutba mayor Emad Mashaal al-Dulaimi.
"They have started adding more checkpoints along the road, with at least 70 new checkpoints in the planning, with the aim of reducing the distance between them and tightening control over the road," he told Diyaruna.
Joint patrols from the army's 1st Division, the Anbar Operations Command, local police, emergency forces and Border Guard will be monitoring the road, he said.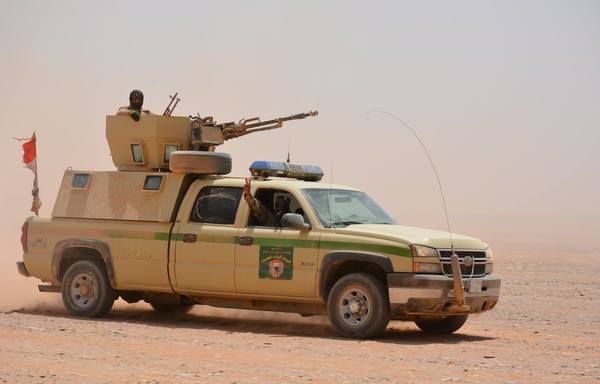 Additionally, "a camera system has been put in place to enhance monitoring and surveillance of terrorist movements and activities that threaten traffic and commerce on the road", he said.
Increasing operational hours
These additional measures are part of a plan devised by the Anbar Operations Command to increase the number of hours the road is open for passengers and commercial trucks coming from Jordan, al-Dulaimi said.
"The road is now open only during the day and is closed from sunset to dawn, and hopefully, next week it will start to open daily until 10 p.m. as a first stage and then later around the clock," he said.
The road is "perfectly safe and has not witnessed any terrorist breaches or threats since it opened in August 2017 after the 'Islamic State of Iraq and Syria' (ISIS) was defeated", al-Dulaimi stressed.
"Closing the road during the night is a mere security precaution," he added.
The road has seen a gradual recovery over the years as a result of the continuous effort to secure it, he said, noting that about 700 commercial trucks travel on it daily, as well as passenger vehicles.
"In conjunction with the security work, there are continuous efforts to repair the road, which has been damaged by terrorist and military operations," al-Dulaimi said.
Rehabilitation of three destroyed bridges has been completed between the areas of Kilo 160 and al-Rutba district, he said, and the construction of more bridges and paving of parts of the road damaged by ISIS bombings have started.
Three rest stops between the Kilo 70 and Kilo 25 areas have been opened east and west of al-Rutba, and work is underway to open more such stations along the 400-kilometre long road, al-Dulaimi added.