Iran's Islamic Revolutionary Guard Corps (IRGC) and its proxies have been forcing out local residents in key parts of eastern Syria, where they are attempting to consolidate and expand Iran's influence, Syrian observers said.
Iran-aligned militias have been seizing real estate in Deir Ezzor in order to establish settlements for militiamen and build schools and cultural centres through which they seek to further Iran's hegemony and attract recruits.
Since the "Islamic State of Iraq and Syria" (ISIS) was expelled from the area in late 2017, Iran has sought to consolidate its influence in the areas around Deir Ezzor city, the border town of Albu Kamal and other eastern Syrian cities, and aim to drive coalition forces and the Syrian Democratic Forces out of it.
To this end, the IRGC and its allies, including Lebanese Hizbullah and various Iraqi, Afghan and Pakistani militias, have deployed in the region, observers said.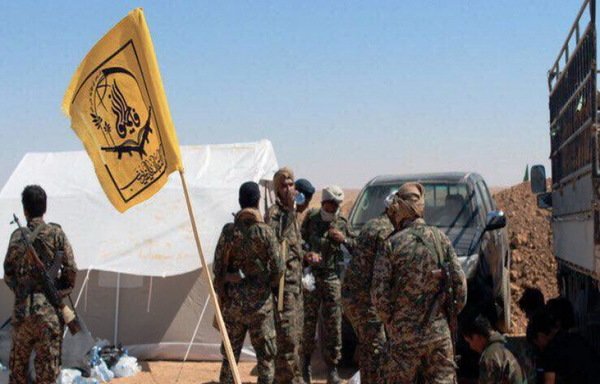 Iran-aligned militias are deployed in the eastern regions, extending south of the Euphrates river from rural al-Raqa to Albu Kamal in Deir Ezzor province, al-Hasakeh political committee official Lt. Col. Hisham al-Mustafa told Diyaruna.
They are concentrated in the Syrian desert (Badiya) and in and around the cities of Deir Ezzor and al-Mayadeen, he said.
"These militias are working towards a major goal to effect demographic change in all areas of their deployment, which is not limited to Deir Ezzor and surrounding towns, but also extends to Homs, Hama and Damascus," he said.
Local residents forced out
Residents of the targeted areas are being pushed out of their homes and off their land, either through enticement or intimidation, al-Mustafa said.
Militias first "offer to buy their property at below market value, and when their offer is rejected, they resort to intimidation", he said.
This might include kidnapping, assault or even assassination in some cases, he said, "in order to force owners to abandon their property out of fear".
Militias are using similar tactics to recruit informants from the local population, he said, using pressure, coercion or money to gain their co-operation.
Iran also has been converting mosques in Deir Ezzor into religious or cultural centres, al-Mustafa said.
In late September, the IRGC's official in Deir Ezzor, "Hajj Askar", ordered the restoration of five schools in Albu Kamal for the benefit of the Iranian Cultural Centre, the Syrian Sada al-Sharqiya media organisation reported.
The order was issued after the Iranian cultural official in Deir Ezzor, "Hajj Hussein", visited Albu Kamal, accompanied by members of the Iranian embassy in Damascus, to explore Iranian projects in the region.
Farsi will be taught in schools by Syrian teachers now being trained in Iran, with curricula approved by the Iranian Cultural Centre, the report said, describing the move as "a new step in the Iranian cultural invasion of Deir Ezzor".
The Iranians are taking control of schools and educational institutions as part of a campaign to "perpetuate their ideology and influence the minds of children and adolescents", said Syrian Tribal Council member Sheikh Mudar al-Asad.
The end goal is to win new recruits for Iran's proxy militias, he told Diyaruna.
Iran seeks to cement influence
Iran seeks to consolidate its influence in Deir Ezzor by acquiring property in the province, often employing dubious means to this end, al-Asad said.
Faced with threats -- which have included imprisonment on false charges, such as belonging to ISIS -- some local residents have been forced to sell their homes, he said.
Settlements have sprung up in key areas, housing militiamen and their supporters, he added, noting that local residents largely reject the presence of these militias and have been holding protests that have left several people dead.
These groups have been creating trouble in the area, al-Asad said, pointing to several incidents in which militiamen have killed shepherds and stolen their sheep, most recently killing 12 shepherds and injuring several others in late September in the Deir Ezzor village of Hama.
Al-Asad noted that these militias did not participate in the battles to oust ISIS, and cannot take credit for liberating Syrian cities from the group.