Tensions are simmering in several parts of rural Deir Ezzor in the aftermath of popular demonstrations in rejection of the Syrian regime and militias affiliated with Iran's Islamic Revolutionary Guard Corps (IRGC), a local activist said.
Since the protests of last Friday (September 20th) that left three people dead, regime security teams have been carrying out raids, arresting civilians in several areas, Deir Ezzor activist Jamil al-Abed told Diyaruna.
The regime's large-scale sweep has encompassed villages and towns in the western part of the province, he said, and has targeted people known for their opposition to the presence of the regime and IRGC-aligned militias.
The towns of al-Shamitiyah and al-Anba have been a particular focus of the regime's crackdown, he said.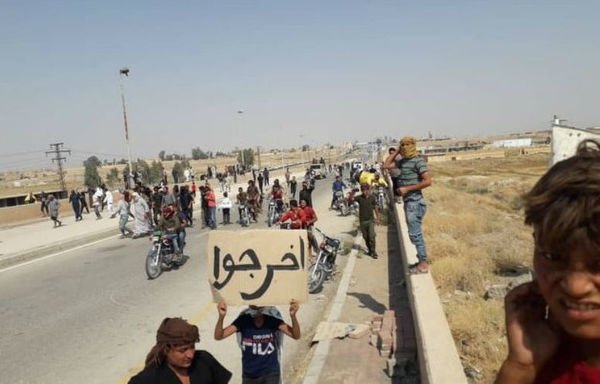 Three people were killed, two of them civilians, in last Friday's clashes with regime forces in al-Salhiya, after demonstrators stormed a regime checkpoint and expelled the soldiers from it, he said.
More than 10 others were wounded during the incident, when regime forces fired at the demonstrators with live ammunition, al-Abed said.
This in turn sparked angry protests, he said, especially after it was later learned that two of the dead had been tortured before they were shot by soldiers protecting the so-called Saqr gas station checkpoint at the edge of al-Salhiya.
The men who were tortured and killed have been named as Abdel Razzaq Khalaf Dakhil and Mohammed Jadaan al-Abbad, he said, while the third person who was killed has been named as Hussein Ali al-Salem.
Further protests expected
"The demonstrators have raised banners that called on regime forces and IRGC militias to leave the area and stop their transgressions and abuse of civilians," al-Abed said.
He noted that the demonstrators were motivated "by the regime forces' neglect of the area, their authoritarianism and the random arrests of local youth by forces manning the checkpoints that encircle and stifle the area".
Local media on Wednesday reported that fresh demonstrations have been planned for Friday (September 27th) at the industrial zone roundabout in the factories area north of Deir Ezzor, and urged participants to keep them peaceful.
Meanwhile, regime allies have been distributing leaflets in rural Deir Ezzor calling on people to rise up against the international coalition and the Syrian Democratic Forces (SDF), local media reported.