Around 600,000 families displaced by the "Islamic State of Iraq and Syria" (ISIS) have returned home since the group's defeat in late 2017, an Iraqi official said Wednesday (October 7th).
The families returned to their original areas after security, public services and social benefits were restored, said Ali Jahankir, director general of the ministry's Directorate for Branch Affairs.
Anbar has been the leading province in securing the return of its displaced population, he told Diyaruna, with nearly 95% of families back in their areas.
Of the 74 camps housing internally displaced persons (IDPs) that were previously operational in the province, only two remain, he added.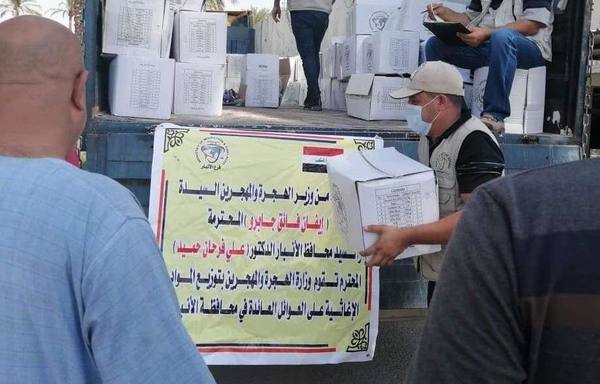 A total of 54,400 families remain displaced in 47 camps, 26 of which are in the three provinces of the Kurdish Region: al-Suleimaniya, Erbil and Dohuk.
The remaining 21 camps are located in the provinces of Ninawa, Anbar, Salaheddine, Diyala and Baghdad, said Jahankir.
Governmental support
The ministry encourages the voluntary return of displaced families once all safety conditions are met, Jahankir said, and helps facilitate returns by providing buses and easing procedures at security checkpoints.
"When they arrive at their homes, they are provided with food and household supplies, and are eligible for grants of 1.5 million dinars ($1,257) per family," he added.
At the end of September, the eighth round of financial grants to returnees -- 2,600 families -- this year was disbursed, said Jahankir.
Grants will be provided to an additional 33,000 returning families by the end of this year, for a total amount of 50 billion dinars ($42 million), he added.
The ministry is also working to bring back all Iraqi IDPs who wish to return from neighbouring countries, he said.
Jahankir noted that a new batch of 134 Iraqi IDPs who hail from the provinces of Ninawa, Salaheddine and Anbar returned on September 29th from the Syrian camp of Akda on the border with Turkey.
"We are acting under a long-term plan and have so far achieved positive results, but challenges related to the provision of services remain," he said.
While security has been stable throughout liberated areas, there are still towns and neighbourhoods that are either destroyed or lack basic services, he said.