The UN's International Organisation for Migration (IOM) and Iraq's Ministry of Migration and Displacement have launched an initiative to facilitate the return of displaced Iraqis to their hometowns.
The initiative offers sustainable solutions to displacement by way of rebuilding homes or compensating locals for alternative housing. It started in camps for internally displaced people (IDP) in Anbar and Ninawa provinces.
Ali Abbas Jahankir, director general of the ministry's department of branch affairs, told Diyaruna the initiative is based on the basic premise of rehabilitating homes for the displaced population prior to their return.
The type of aid depends on the extent of damage to a home, he said.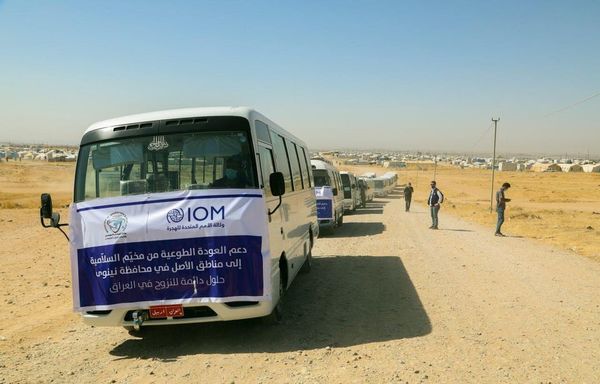 The initiative was initially executed to help the displaced population of Fallujah in Anbar province, of whom 94 families have so far returned, he said.
The initiative is currently being carried out in Ninawa, where 120 families returned home from al-Salamiyah camp on September 10th.
Some 1,300 homes have so far been included in the initiative, Jahankir said, adding that IDPs either had their homes gradually rebuilt for them or they were given grants to restore them.
Siobhan Simojoki, director of the IOM's Community Stabilisation unit, told Diyaruna the new initiative does not intend to solely return IDPs to their hometowns. Rather, she said, it aims to ensure they remain and settle in their areas.
The return of IDPs from al-Salamiyah camp was part of the first phase of an ongoing initiative to meet the needs of the displaced population. The goal is helping them return and integrate in their communities, as well as providing them with basic services such as potable water, Simojoki said.
She said returning IDPs is done in a voluntary and peaceful manner, in co-ordination with local governments and by preserving the dignity of the displaced.
Coronavirus precautions
Khaled Abdul Karim, director of Ninawa province's Migration and Displacement office, told Diyaruna that plans for voluntary returns from al-Salamiyah camp took coronavirus (COVID-19) risks into consideration.
Teams from the Ministry of Migration and the IOM have been observing social distancing by reducing the number of IDPs returning home on each bus, he said, noting that 36 families only were returned on September 10th.
During a visit to the Qadia camp in Dohuk province in northern Iraq in September, Iraqi Prime Minister Mustafa Kadhemi emphasised his government's commitment to returning all IDPs home.
Iraqi media quoted Kadhemi as saying the government is making every effort to help facilitate their return and provide stability for families.