Though many Iraqi families who were displaced by the "Islamic State of Iraq and Syria" (ISIS) have been able to return home, some have chosen to remain in the camps or the areas where they have taken refuge.
To give these people an incentive to return, local authorities are seeking to resolve the issues that prevent them from going back to their hometowns.
The main reasons people give for not wanting to return are the destruction of their homes and the scarcity of public services and jobs in those areas.
Former Mosul resident Raed Abdullah, 41, who now lives in Baghdad, told Diyaruna that his home in Mosul's Old City was destroyed, and he does not have enough money to rebuild it, nor has he received government compensation.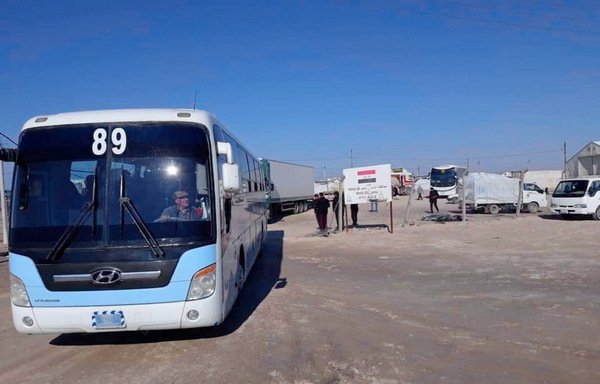 But this is not the only reason why he is unwilling to return, he said, pointing out that water and electricity services are still not available in his neighbourhood, and that it remains difficult to find work there.
Abdullah is currently working in a pastry shop near his rental home in Baghdad's al-Adhamiyah neighbourhood.
"My daily wage is not enough to support my family, but it is better than nothing," he said.
Obstacles to return
"The government does not force displaced individuals to return," said Faten al-Hilfi of Iraq's Independent High Commission for Human Rights. "The process is voluntary, rather than compulsory."
"When we talk about the return of thousands of internally displaced persons (IDPs) to their homes, we should not ignore the unwillingness of others to end their exceptional status of displacement over the past five years," she said.
"Some have actually returned, only to soon head back to the IDP camps or wherever they were staying, which is what we call reverse return as a result of instability," she told Diyaruna.
"The reasons behind refusing to return and reverse returning are many," al-Hilfi said, and include poor infrastructure and public services in the liberated areas, as well as the partial or full destruction of the IDPs' homes.
In some cases, she said, IDPs "have managed to hold a job in the areas of displacement" and do not wish to return and risk losing their livelihood.
Other deterrents to return include fear of revenge or persecution, she said, as in the case of returnees who have had a relative that belonged to ISIS.
Addressing underlying causes
Government officials told Diyaruna they are working on addressing the underlying causes in an effort to resolve the displacement crisis.
The Ministry of Migration and Displacement is doing everything it can to address the issue of displaced people who refuse to voluntarily return to their homes, said Ali Jahankir, general director of the ministry's Department of Branch Affairs.
"We are collaborating with ministries and local authorities to accelerate the reconstruction of basic services in affected areas and helping people repair their homes," among other measures, he said.
The ministry is conducting "a comprehensive survey of families that are unwilling to return, so they can identify the reasons behind that decision", he said. This is expected to provide "integrated data that will help put in place effective government plans".
The ministry also is resuming the payment of 1.5 million Iraqi dinar ($1,259) grants to each family that returns to their home, Jahankir said.
"Some 30,000 returning families will benefit from this grant, and we hope it will incentivise other displaced families to return," he added.
"We have several encouraging programmes, and we are soon going to start an economic support programme," he said.
This will include professional training courses that will help people find work, he said, as well as assistance with equipment for starting small businesses.
Declining number of IDPs
"We had hundreds of thousands of displaced families, and now there are only 92,000 families that are registered as displaced, most of which are dispersed across 152 camps throughout the country," Jahankir said.
"The numbers of these families are declining at a rate of 100 families a day," he said.
Salahedinne Directorate of Migration head Faza al-Shimmari told Diyaruna that over the past few years, 129,000 displaced families have returned to their homes in the province.
Around 900 families remain in the Salaheddine province displacement camps of al-Alam, al-Karama and Bustan al-Shuyoukh, he said.
"These families want to leave the camps and return home as soon as possible," al-Shimmari said. "We are doing everything we can to make sure they can return and the crisis of displacement can be fully resolved in our province."