The Iraqi army and Kurdish Peshmerga have recently established four joint co-ordination centres to implement measures to counter an uptick in activity by "Islamic State of Iraq and Syria" (ISIS) remnants in areas separating the two sides.
Officials told Diyaruna the co-ordination centres represent a "first step" towards reaching a final agreement that strengthens bilateral relations, after the Kurdish region's decision to secede from Iraq in 2017 had caused tensions.
This move was preceded by a series of meetings between officials from both sides to reach an understanding regarding the resumption of joint and permanent security activity.
In July, Iraqi Security Forces (ISF) conducted search operations and landings at ISIS hideouts in eastern Iraq in co-ordination with the Peshmerga for the first time since 2017.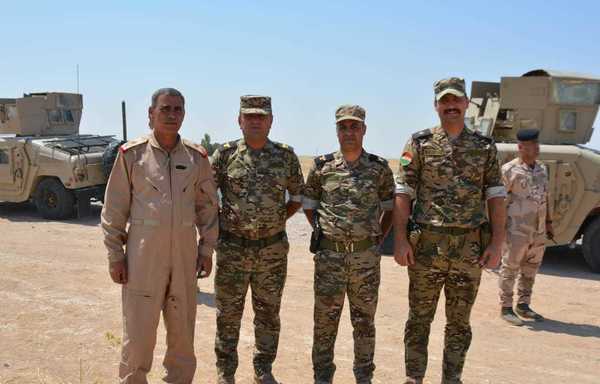 The operations were part of the fourth phase of the "Heroes of Iraq" military campaign to clear ISIS from Suleimaniyah and Diyala provinces.
'Iraqi, Peshmerga forces determined to make progress'
Nasser al-Harki, member of the parliamentary security and defense committee, said Peshmerga forces are part of the national defence system and were a main partner of the Iraqi army in the fight against ISIS.
He said there is an urgent need to re-activate the partnership based on a comprehensive agreement, so the two sides can resume and continue joint security operations.
Both sides are determined to make progress, he said.
"Bilateral meetings are ongoing and there is an atmosphere of understanding and on-the-ground co-ordination," he said, stressing that negotiation committees must prioritise the country's interest and security.
ISIS elements are trying to regroup in the area separating the lines of deployment of the Iraqi army and the Peshmerga, which is over 10 kilometres deep and stretches from the east of the country to the west.
This area includes disputed cities between the central government and the Kurdish regional government.
According to official reports, in the first six months of 2020, ISIS launched 147 attacks on the outskirts of cities in that area, including Mandali, Khanaqeen, Makhmour, Ninawa Plains, Sinjar and Kirkuk. These attacks caused dozens of casualties.
Retired Maj. Gen. Majid al-Qaisi told Diyaruna the Iraqi-Peshmerga co-ordination centres, formed with the international coalition's support, are necessary for filling the security void that terrorists seek to exploit.
Terrorists settle in the outskirts of disputed areas and gradually expand their presence into nearby towns and villages, he said.
ISIS growing amid weak military presence
Al-Qaisi said the escalation of terrorist operations indicates that the threat is increasing and security co-ordination is an urgent necessity.
ISIS is growing amid crises and political division and Iraq is in need of stability, which cannot be achieved without co-operation and co-ordination at the highest levels, he told Diyaruna.
Iraqi and Peshmerga officials continue to discuss establishing a joint operations room and joint security force that would deploy deeper into the strip separating the two sides.
There are also plans to set up joint checkpoints at cities' entrances.
Katah Najman al-Rikabi, member of the parliamentary security committee, told Diyaruna it is imperative to focus on security and take all required steps to establish stability.
He said officials from central and regional governments must resume co-operation to defeat ISIS, since terrorists have taken advantage of tensions to establish a foothold in areas without a strong military presence.
Co-ordination and joint operations would stop terrorists from transforming into a greater danger, al-Rikabi said.