Over the past two months, Kurdish Peshmerga forces backed by international coalition forces have launched joint attacks against "Islamic State of Iraq and Syria" (ISIS) remnants hiding in the mountains of northern Iraq.
The covert attacks have resulted in the deaths of at least 100 ISIS remnants, and the bombing of 34 ISIS hideouts in the Makhmour mountains, south of Erbil province.
Kurdish forces were assisted by special units from the international coalition in attacking the network of tunnels and caves that extremists use to hide.
The joint forces are making "significant progress to hunt down terrorists in the Qara Jogh mountain range (western Ninawa) and al-Kwair Makhmour area (south-east Mosul) and Qaraj, Iraqi Ministry of Peshmerga Affairs secretary general Lt. Gen. Jabbar Yawar told Diyaruna.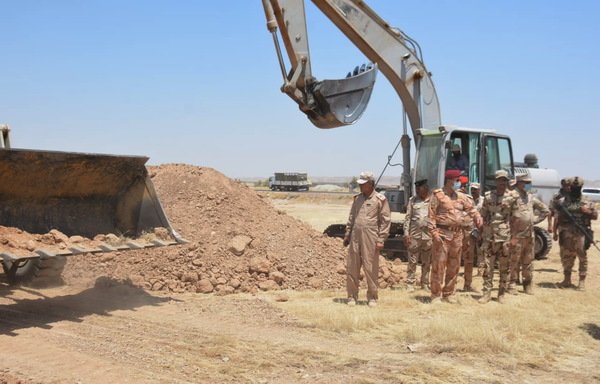 Operations extend to all areas located at administrative borders that lie between the Kurdish region and neighbouring provinces, he said.
Joint operations weaken ISIS
"In late 2017, terrorists gained a foothold in [administrative] border areas with lax security, using them as launchpads for attacks against nearby towns and villages," said Yawar.
They carried out sniper attacks and bombings, kidnapped farmers and threatened to burn down their crop if they do not pay tributes, he said.
"We now look forward to completely eradicating terrorist activity with the help of the coalition and in collaboration with the federal government," he said.
Peshmerga Ministry officials held two new rounds of negotiations last month with officials from the Iraqi Ministry of Defence, said Yawar.
"We discussed outlining a mechanism for bilateral military and security co-operation, information exchange and implementation of joint operations that aim to remove security gaps in areas with lax security," he said.
"We are working together to put in place a plan that ensures co-ordinated bilateral action to defeat terrorism," he said.
He pointed out that Peshmerga forces supported the Iraqi army's "Heroes of Iraq" military campaign (fourth phase) in Diyala province by mobilising units at the frontline to prevent the militants from escaping.
Calls for continued co-operation
ISIS has been dealt heavy blows that have degraded its activity and ability to move about, said Iraqi MP Nasser Harki, who serves on the security and defence committee.
But ISIS elements remain present, albeit in smaller numbers.
They are currently focused in the area that lies between the provinces of Diyala, Kirkuk and Salaheddine, he said, and in the areas of Khanaqeen, Qara Jogh, the Iraq-Syria border and critical areas around the capital, known as the Baghdad Belt.
Eradicating these militants "requires more search campaigns and raids and for all security gaps to be filled", said Harki, calling for continued co-operation and large-scale joint operations between the army and Peshmerga.
Security expert Safaa al-Aasam confirmed that positive steps have been taken by the two sides and the upcoming period will see "even more bilateral co-operation".
Peshmerga forces are a key partner in the effort to defeat ISIS, and so is the coalition, he told Diyaruna.
International coalition forces have supported Peshmerga operations by providing intelligence from advanced satellite imagery, and by conducting drone reconnaissance missions, raids and military intervention, said al-Aasam.