Iraqi army and Kurdish Peshmerga forces are working together to stamp out sleeper cells of the "Islamic State of Iraq and Syria" (ISIS), officials said.
During a February 24th meeting in Baghdad, the two sides discussed the formation of joint committees to fight ISIS, among other matters, Ministry of Peshmerga Affairs secretary general Lt. Gen. Jabbar Yawar told Diyaruna.
The two sides have agreed on two fundamental points, he said.
"The first is related to the importance of honouring back payments to Peshmerga fighters approved in last year's budget, totalling 68 billion Iraqi dinars ($57 million) per month, which have gone unpaid," he said.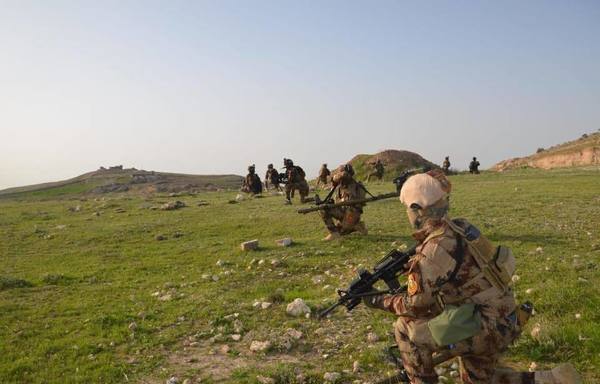 The second point is regarding security in "the disputed areas" from an administrative perspective between Baghdad and Erbil, he said.
These areas include Kirkuk and several districts in Diyala, Salaheddine and Ninawa provinces, including Khanaqeen, al-Sheikhan, Makhmour, al-Hamdaniya and Sinjar.
"We have agreed to bring together the main and subsidiary co-ordination committees between the Peshmerga and the Ministry of Defence so they can resume their work, which is aimed at preventing the movement of terrorist elements," he said.
Joint operations beat back ISIS
The meeting comes on the heels of similar ones held last year to look into ways to resume joint operations targeting ISIS remnants in the disputed areas.
ISIS has been defeated, Yawar said, "but its elements are still active in these areas in the form of small groups that move in secrecy to set up ambushes, target military bases and checkpoints, and plant explosives".
These remnants also have been involved in cases of extortion and of kidnapping for ransom, he added.
According to the Ministry of Peshmerga Affairs, "there were 456 terrorist operations that occurred in 2018" in the disputed areas, "during which 1,742 civilians and military personnel were either killed or wounded".
Last year, there were 238 terrorist incidents, with 1,200 victims, he said.
"The Peshmerga and Kurdish officials are continuing to meet on a monthly and even weekly basis" resulting in "deployment of joint security operations to defeat terrorists and prevent their expansion", Yawar said.
Confronting extremist ideology
Brig. Gen. (ret.) Adnan al-Kanani, a security expert and former official in the Iraqi Counter-Terrorism Service, praised the efforts of Baghdad and Erbil to work together to mitigate the threats posed by ISIS remnants.
"The Peshmerga are an Iraqi force linked to the Ministry of Defence at the federal level," he said. "They are highly skilled and have played a large role in fighting terrorists and liberating cities from their control."
"The federal government is keen to continue communication and collaboration with the Kurdish forces through bilateral committees that include military and security officials, in addition to representatives from the international coalition."
Al-Kanani underscored the importance of separating the security effort from the current political unrest, noting that ISIS hopes to exploit these circumstances to regain its strength, regroup, energise its base and find safe havens.
ISIS is in a state of collapse, and its only remaining source of power is its extremist ideology, he said. "This ideology has to be confronted and more military pressure placed on the elements of the group."
Fighting a common enemy
Makhmour mayor Rizgar Mohammed confirmed that the Iraqi army's 14th Division is currently taking control of the security situation in the district.
Peshmerga forces were deployed in Makhmour, Ninawa province and districts along the administrative border with the Kurdish region, he explained.
As a result of the independence referendum the Kurdish region conducted in October 2017, however, the Peshmerga had to leave their positions after the Iraqi forces took control of security.
Mohammed said the Iraqi army carries out its duties in that area, and there have been operations launched by the CTS against ISIS hideouts in the Qara Jogh mountains and the Qaraj valley region.
He also underscored the importance of collaboration with Peshmerga forces in order to strengthen security in the district.
The Makhmour mountains stretch across three provinces -- Kirkuk, Ninawa and Salaheddine -- and "securing that region is complex and requires significant military effort", Mohammed said.