Iraqi and Kurdish forces, which have been working together for the entirety of the war against the "Islamic State of Iraq and Syria" (ISIS), are seeking to step up their joint collaboration in order to rout the group's final remnants.
Since ISIS overran swathes of Iraq in the summer of 2014, the forces have fought side by side in the battles to wrest territory back from the group.
But this collaboration saw a decline amid political tensions between the federal government and the Kurdish regional government following a September 2017 referendum which saw Iraqi Kurds back independence for their northern region.
Both sides have confirmed they are moving to reinstate normalcy, and say ISIS has taken advantage of these tensions to step up its activity on the administrative border between the Kurdish region and other Iraqi provinces.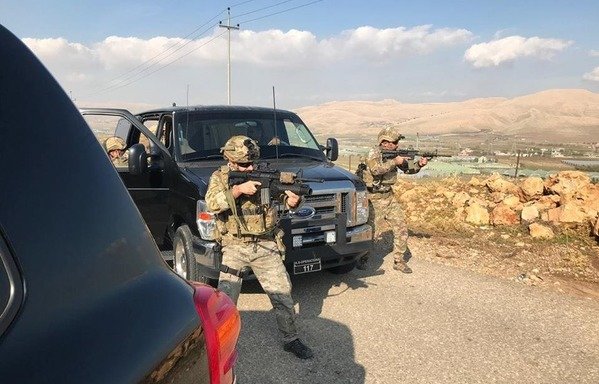 A full agreement between the Ministry of Peshmerga Affairs and the Iraqi Ministry of Defence has yet to be signed, Peshmerga ministry secretary-general Jabar Yawar told Diyaruna.
"There is, however, communication, mutual understanding, meetings and visits between senior officers and officials in both ministries," he said.
These efforts are paving the way for broad discussions on how to work together to rout ISIS remnants and resolve other security issues, he added.
Bilateral collaboration
"Before the emergence of ISIS, we had a centre for bilateral collaboration, as well as patrols and security checkpoints manned by joint Kurdish and Iraqi troops," Yawar said.
This included five checkpoints in Diyala, six in Kirkuk and 13 in Ninawa, he said.
"Together, we would secure the entrances and exits to the cities and neighbourhoods, and would meet and exchange information about any terrorist movements," Yawar said.
"We succeeded in creating a safe and secure environment for the civilian population" in these areas, he added.
After ISIS occupied Mosul and other cities, Peshmerga fighters and the Iraqi army fought together to liberate several cities from the group's control, he said.
"We are now moving quickly towards a new stage of collaboration," Yawar said.
"What is important is that [both sides] are in agreement that any collaboration has to happen, so as to end the terrorist threat and send back all the internally displaced persons (IDPs) in the Kurdish region," he said.
There are an estimated one million IDPs in the Kurdish region, he noted.
Desire to work together
"It is in our interest to step up our security, military and intelligence efforts because terrorism is a threat to everyone," Yawar said.
A series of recent meetings between Ministry of Defence and Ministry of Peshmerga Affairs officials "reflect a bilateral desire to work together", Ministry of Defence spokesman Maj. Gen. Tahseen al-Khafaji told Diyaruna.
"Co-ordination committees have made significant progress, and we have achieved positive results towards reinforcing our security and military activity, as well as activating the joint operations room," he said.
On December 26th, officials from both ministries met in Baghdad.
Both sides agreed to "work in the spirit of one team and identify focal points, prevent any terrorist infiltration and jointly hold the ground", according to a Ministry of Defence statement.
Al-Khafaji pointed out that the two sides "have always worked together, and have managed to exchange intelligence that brought down senior figures and large networks within ISIS and foil terrorist attacks".
'Both sides need each other'
Kurdish forces on December 8th announced they had arrested six members of an ISIS network that had been planning suicide attacks in Suleimaniyah province, as a result of intelligence exchange between Kurdish and Iraqi forces.
The Peshmerga played a crucial role in achieving victory over ISIS, al-Khafaji said, adding that it "is important for us to continue working together, exchange plans and information, and jointly take part in security operations".
Any co-operation between federal and Peshmerga forces is "undoubtedly a positive step, because both sides need each other", security analyst Fadel Abu Raghif told Diyaruna.
"ISIS is still a source of threat, since there still are some remaining elements, even though the group as a whole has been militarily defeated," he said.
Iraqi and Kurdish forces must improve co-operation to hunt down ISIS sleeper cells and destroy the group's hideouts in the remote mountainous region between the Kurdish region and adjacent provinces, he added.